What's going on with Inter Milan? That's a question that a lot of football fans have been asking lately, as the 18-time Italian national champions have struggled to maintain consistently high levels of play in recent years. This fall, the football club's fall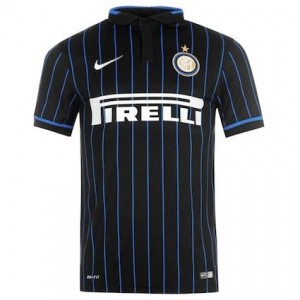 from grace has seemingly continued, but fans can offer some extra support-and perhaps jolt the club's momentum-with a new Inter Milan Nike kit 2014, including shirt, available at Soccer Box.

Even in rough years, clubs like Inter Milan remain popular. At Soccer Box, we always strive to meet the demand of such popularity, and we have done no differently with our stock of Internazionale gear this season. Whether you are looking for a Nike away kit or a shirt or jersey such as the classic black Inter Milan home shirt 2014 2015, you can find it here.

The Fall From Grace

For Inter Milan, the aforementioned "fall from grace" began four years ago, with the 2010 2011 season. By all benchmarks, that soccer season was still a stellar one for the football team, ending with a record of 23 wins, 7 draws, and 8 losses. However, after five consecutive Serie A football titles, the runner-up finish was a sign that, perhaps, Internazionale's soccer dynasty was coming to an end.

As has become evident in the years since, that really was the end of the soccer dynasty. Each football season has seen Inter Milan claiming fewer victories than the one before it. In 2011, it was 17 wins; in 2012, it was 16; in 2013 2014, it was 15. Last year, the came very close to falling out of Serie A's top 10.

2014 2015

It goes without saying that football fans are hoping that the cool new Inter Milan home shirt 2014 2015 from Nike will bring some extra luck to their team. So far, though, the club looks to be continuing its slide down the league ladder.

Indeed, last year, despite a weaker-than-average record, Internazionale still finished in fifth place on the league table. The soccer squad also had a significantly better record at this point last year than they do now. Seven weeks into 2014 2015 play, and the Inter Milan Nike kit 2014 isn't looking as bulletproof as fans might have hoped. The club has a record of 2 wins, 3 draws, and 2 losses-good enough to remain in the top 10, but nowhere near the Juventus record of 6 wins, 1 draw, and no losses.

Seven weeks into the 2013 2014 season, though, fans had a little more to be proud of when wearing the Internazionale Nike home shirt. The football club had won 4 matches at that point, drawing 2 and only losing 1. They didn't pick up their second loss of the season until a week 16 match in mid-December.

Disheartening Trends

Things started off well enough for the Internazionale shirt this year. After drawing with Torino in a season-starting match, the players donned the Nike Inter Milan home shirt 2014 2015 for the first home game of the year. The result was a completely dominating performance against Sassuolo, a 7-0 win that displayed the kind of team that every fan wants Inter Milan to be.

Unfortunately, the club has been following some disheartening trends since that commanding win. Another home victory against Atalanta gave Nike home kit wearing fans another thing to cheer about, but the team hasn't won a Serie A match since. And since that game was played on September 24, the squad has gone through a month-long drought of victories.

To be fair, Inter has played two of the teams that placed higher on last year's Serie A table: Fiorentina and Napoli. Inter Milan lost to the former and drew with the latter. Another loss, though-a 4-1 loss against Cagliari-was more disheartening. Cagliari finished 2013 2014 in 15th place on the league table.

Will the Internazionale shirt recover from this dry spell and start winning matches again soon? Or will the club continue its recent trend of losing more and more matches each year? Shop at Soccer Box and purchase the new Inter Milan Nike kit to provide some much-needed support to the squad. We have both home and away kit versions of the team's 2014 2015 shirts in stock as well as several training kit or t shirt options.