Football is the most popular sport in England, and around the world. Over 250 million people in over 200 countries play football. Professional football is very popular with many people choosing to support a team. The English Premier League is the most popular league; the Spanish La Liga, German Bundesliga and Italian Serie A are also popular. English retailers increasingly sell International football shirts.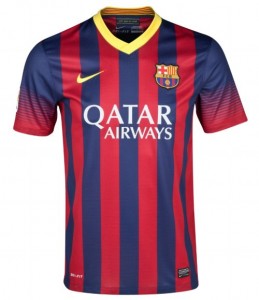 Traditionally football fans have chosen to support a team locally to their home. Increasingly though, many supporters are supporting teams from further afield. Within England there is now a huge demand for international football shirts. Online retailers including Soccer Box stock not only Premier League kits, but also soccer jerseys for the most popular international football teams. Whoever you support, shop now at Soccer Box!

Recently one of the best selling products has been the Barcelona boys home shirt. Barcelona is a Spanish football club. They are the most successful Spanish team. Last season they won their 22nd La Liga title, they have also won 4 UEFA Champions League trophies. Star player Lionel Messi has contributed to the teams continued success and increasing support.

The brand new Barcelona boys home shirt is available now at Soccer Box. Nike manufactures the Barcelona football kits. This season's jersey features the famous red and blue vertical stripes. The sleeves feature the transitional pattern that was so popular last season. The V-neck collar is designed in yellow. After having charity sponsorships with UNICEF, and The Qatar Foundation for the past few seasons, this year's shirt features their 1st commercial sponsor Qatar Airways.

Along with Barcelona kits there is increasing demand for team shirts for clubs around the world. Recent Nike statistics reveal that Barcelona is their 2nd best selling kit, behind Manchester United, with Juventus and Inter Milan also making the top 5. The best selling Adidas kit is Real Madrid, Bayern Munich and AC Milan also feature in the top 5. Why are these international football shirts now so popular in the UK?

Attending a football match was a traditional Saturday afternoon activity for many families in the past. However, in recent years the sport of football has become much more commercialized. Between 1989 and 2009 the average cost of a football ticket rose by 1000%, making attending games unaffordable for many fans. With these rises the popularity of international football shirts has increased. As the cost of attending games has become prohibitive the travel distances have become irrelevant.

Satellite television has also had a major impact on football. The introduction of the Premier League in 1992 began a new trend of huge football broadcasting deals. The need to fill 24 hours each day, with sports shows on dedicated sports channels, has also increased access to a more diverse range of teams. Young children watching Lionel Messi on television, has created a huge demand for the Barcelona boys home shirt.

Along with increased television coverage the advent of widespread, fast Internet connections, has also increased access to worldwide sports news. From anywhere in the world fans can access information about any soccer team, they can keep up to date with results, and even stream live matches via mobile devices. Geographical constraints no longer limit which teams we support, again spurring demand for international football shirts.

Over the last decade there has been in increase in international transfers. As the money in football has increased so has the value of these transfers. For example Cristiano Ronaldo and Gareth Bale, the 2 most expensive players in the world, moved from the Premier League, to Spanish club Real Madrid. International football shirts are more popular as Ronaldo fans will buy a Real Madrid jersey, to show they support the player, not the team.

With the increasing amounts of technology available, the world's natural barriers are being broken down. As the cost of attending matches has increased, fans have substituted this with television and media coverage. Supporting a team thousands of miles away is no longer unachievable or unrealistic. Wearing an international football shirt to show you support Barcelona, Bayern Munich, Juventus or any other team is just as acceptable as somebody in Manchester supporting Man Utd.

What do you think of the new trend of supporting a team in a different country? Do you follow teams in leagues around the world, or stick with the local club?