There is little wonder that UK shoppers are seeking international football shirts 2014/15 in their online searches. La Liga in particular has shot to popularity with teams such as Real Madrid, Barcelona and now Atletico Madrid stealing the limelight. Soccer Box has all the international football shirts you need so log-on and shop online today.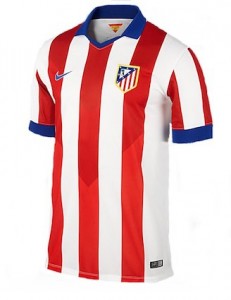 La Liga is set to recommence for the 2014/15 campaign this weekend but the matter of the Supercopa de Espana needed solving first. The Supercopa de Espana is fought out between the winners of the Copa del Rey and the La Liga champions, this year between Real Madrid and Atletico Madrid. This is a two-leg match, the 1st was played on Tuesday night at the Santiago Bernabeu. The second leg will be held tonight at Atletico Madrid's Vicente Calderon Stadium.

The Atletico Madrid soccer jersey 2014/15 is expected to be extremely popular this year after the team won La Liga last season. However, the might of this year's team has been bought into question after the loss of star players that led the squad to victory. Diego Costa, Felipe Luis and Thiabaut Courtois will all wear the Chelsea football shirts this season, and David Villa will be playing in American Major League Soccer.

Supercopa de Espana 2014

Tuesday night's game was a grudge match between the two football teams based in Madrid. In recent years Real has outshined their city neighbors, however, Atletico has fought back knocking both Barcelona and Real off their podium positions in La Liga.

Real Madrid did outshine Atletico in both the Copa del Rey and UEFA Champions League taking both titles. It is certain after Tuesday's performance that neither team is willing to give up the Supercopa de Espana, and that it will be a fight to the end. Whichever team you support, there is still time to order international football shirts 2014/15 with next day UK and fast international shipping options.

Both teams fielded strong starting line-ups, but with the loss of several star players the team wearing the Atletico Madrid soccer jersey 2014/15 was noticeably different to last year's 1st choice selection. Atletico Madrid did however, prove that the loss of players does not translate to loss of talent or desire to win.

Real Madrid were favorites to win this leg on home soil but the game was tight, a true international spectacle of football that was watched around the globe. The game remained scoreless, until a late goal by new addition to the Real squad James Rodriguez on the 80th minute. It seemed that Atletico Madrid might go into the 2nd leg a goal down, but their determination paid off and Raul Garcia equalized in the 88th minute. This vital equalizer gives Atletico Madrid an important away goal and the motivation to win tonight on home soil.

International League Kickoff

This weekend is a big weekend for international football. Last weekend saw kickoff on the English Premier League, this weekend the Spanish La Liga and German Bundesliga teams will play their 1st matches. For international football fans the Spanish La Liga is surely the league to watch, and where the action is happening.

International football shirts 2014/15 are selling fast as both Real and Barcelona have bolstered their teams this season with big signings, including goal scorer James Rodriguez and the £75 million signing of Luis Suarez at Barca. Tuesday night's game has made it clear that La Liga will not be a 2-team race again this year. Atletico Madrid is still part of the game and ready to steel more glory.

Saturday will see the 1st La Liga fixtures when Malaga faces Athletic Bilbao at 1pm. Several other games follow but it is not until Sunday that the 'big' teams enter the fold, when Barcelona faces Elche at the Nou Camp. Due to tonight's Supercopa de Espana tie Real and Atletico Madrid do not play until Monday.

Week 3 will see another clash between the two sides based in Madrid as they meet again at the Santaigo Bernabeu on 13th September. La Liga is promising exciting matches and thrilling football. With the brand new Sky Sports 5 channel dedicated to international football there is no excuse not to order the Atletico Madrid soccer jersey 2014/15 and watch the battle commence. If you prefer Real or Barcelona you can get their home or away soccer jersey too!