The Irish national football team has had little success in international tournaments and competitions. Recently the team has parted company with manager Giovanni Trapattoni, he led them to qualify for Euro 2012 for the first time in 24 years. Recently the team has not been on top form leading to the mutual decision for a replacement to be found.  Despite the ups and downs fan loyalty remains high and products such as the Ireland Jacquard Scarf remain popular.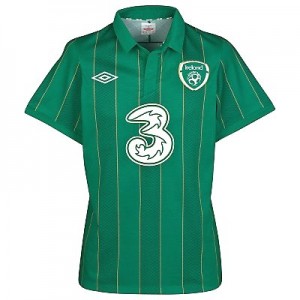 The Ireland jacquard scarf is a great product perfect for showing support during the upcoming World Cup qualifier matches. The double sided design features a large central green block featuring an 'Ireland' logo and slogan, on each end are white and orange stripes featuring the counties shamrock symbol. Finished with tassels it will keep you warm whilst watching the match.
The
Ireland football shirts and jerseys
are manufactured by Umbro, their current deal is in place until 2020. The home kit utilises the countries famous green and white colour scheme.
A new home shirt is due to be released soon, an away kit was launched earlier this year. It is a modern black and charcoal polo neck design featuring vertical stripes.  The new kits will be available from the Soccer Box online shop.
The players that wear the Ireland football shirts and jerseys are currently in the process of qualification for next year's World Cup that will be help in Brazil. They are in Group C alongside Germany, Sweden, Austria, Kazakhstan and Faroe Islands.
With 3 games left to play, having lost their last 2 matches they are 4th in the table with 11 points and have little hope of securing qualification.
It has been reported that Martin O'Neill may be the man to replace Trapattoni in charge of the team that wear the Ireland football shirts and jerseys. He is originally from Northern Ireland and is an experienced soccer manager having spent time managing Norwich City, Aston Villa and Sunderland amongst others.
After an unsuccessful spell with Sunderland he was sacked and is looking for a new management opportunity.
On 23rd September it was announced that Noel King would step-up as interim manager of Robbie Keane and the other players wearing their Ireland football shirts and jerseys for the remaining World Cup qualifiers.
In the statement released by the Football Association of Ireland (FAI) it was clear that the decision of who the new manager would be, will not be rushed.
With qualification for Brazil 2014 extremely unlikely the next target for the team with their Ireland football shirts and jerseys will be Euro 2016 that is to be held in France.
The qualification process for this competition will not begin until September 2014 giving the FAI ample opportunity to consider viable management options and appoint an appropriate person.  It took them 117 days to choose Trapattoni when he replaced Steve Staunton.
After losing his right hand man John Robertson there is a concern that O'Neill may not be the perfect choice, however the FAI are sure to take their time in considering the options. Whilst the fans are generally loyal and supportive they want to start seeing some Irish football success.
Products such as the Ireland jacquard scarf and team kits will remain popular in Ireland and Irish communities around the globe.
Do you think Martin O'Neill is a good choice?
Who else may be an alternative that could lead Ireland to Euro 2016 success?
Get all your Ireland football shirts and jerseys as well as souvenirs from Soccer Box. Shop