This summer's FIFA World Cup tournament in Brazil may not have treated the Italy national football team particularly well,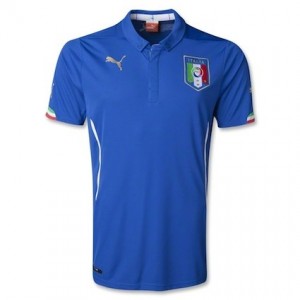 with the team failing to progress beyond the group stage for the second straight World Cup event. However, even after 2010's dismal World Cup performance, Italy still fought back to the runner-up position in the UEFA European Championship two years later. The current Italy soccer squad will look to replicate that feat in 2016, and you can support them by buying a new Italy football kit and cheering for the Italy side in the Euro qualifying rounds on the way this fall.

At Soccer Box, we still have the Italy home shirt 2014 2015 in stock and ready to go with this fall's qualifiers. The shirt, a lovely blue Puma kit, was worn by the Italian players in certain fixtures of the World Cup this summer. The shirt will also be the shirt Italy players are wearing at home fixtures throughout the next year and a half as the team battles for good position in the Euro 2016 tournament.
The 2010 Tale

Some soccer fans may take this summer's 22nd place finish at the World Cup as a sign that the Italy team does not currently have what it takes to hang with the best teams in the world or to win a major tournament. However, fans would have likely said the same thing in 2010, and the Italy football kit ended up being proudly displayed on the runner-up podium at the European Championship. In other words, anything is possible.

Indeed, if this year's World Cup was a rough one for Italy, then 2010 was very nearly the nadir of the team's storied history. In a group with no other former World Cup contenders, the four-time world championship Italy team failed to win a single match. A loss against Slovakia and two limp 1-1 draws with Paraguay and New Zealand left Italy at the bottom of the Group F table and in 26th place overall for the World Cup.

Other than the 1930 World Cup, where Italy didn't play, and the 1958 tournament, where the team failed to qualify, the 26th place finish in 2010 was the first time Italy had finished outside of the top 15 teams. To add insult to injury, the Italy team was the defending World Cup champion. Needless to say, fans were hoping that the Italy home shirt 2014 2015 would herald stronger results.

2014 Disappointments

Unfortunately, this year brought little redemption for the Italy football kit. Despite a talented squad that includes Mario Balotelli, a 24-year-old striker fresh off a phenomenal 2013 2014 season at Milan, Italy simply couldn't build momentum at this year's World Cup.

To be fair, Italy simply had bad luck this year. Unlike in 2010, when Italy's group featured no other past winners, 2014 brought Italy into Group D, a "group of death" that included past champs England and Uruguay, as well as a dynamic Costa Rica soccer team. And while the Italy team got off to a good start, beating England for its first victory in a World Cup match since the 2006 finals, things quickly went downhill for Balotelli and company.

Indeed, the glow of the Italy home shirt 2014 2015 rapidly wore off in games two and three, where Italy fell in twin 0-1 losses to Costa Rica and Uruguay. Costa Rica, the one team in the group without a World Cup trophy, ultimately won the group, while Uruguay took second. Italy finished third and was eliminated.

Euro 2016

However, despite the recent drought of World Cup prestige for the Italian team, there is still a chance for them to excel at Euro in two years. After all, Italy ended up in the runner-up position at Euro 2012, losing to then-World-Cup-champs Spain in the finals.

This fall, Italy will begin a campaign to qualify for Euro 2016. The team has been drawn into Group H, where it will face Croatia, Norway, Bulgaria, Azerbaijan, and Malta. The first soccer matches of the group will be played on September 9, when Italy will face Norway in an away match.

Do you think that the Italy team can bounce back from its recent World Cup woes to contend at Euro 2016? This fall's qualifying rounds will shed some light on the answer to that question, but you can root for a positive outcome by stopping by Soccer Box today and picking up an Italy football kit