The Italian national football team is perhaps one of the most respected and feared teams that are competing in Brazil for the 2014 World Cup. They have had many football successes in the past and currently hold a total of four World Cup titles. They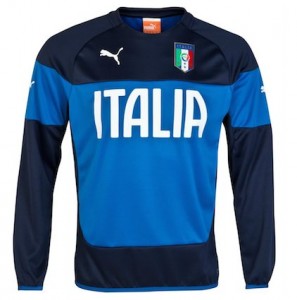 clearly have a genuine bid for the title again this year, and it will be no shocker if the stadiums in Brazil are filled with Italy soccer jerseys to show support for this incredible team.

Italy has a worldwide fan base, and even some of the greatest teams such as Brazil, a team also expected to have a huge showing this year not only in numbers, but in play too, will be hard pressed to put up points against the Italian national team. They may have won four World Cup titles, but they have also come close several more times losing out in two finals, and coming in third and fourth place one time each. It will definitely be a surprise if we did not see fans all over the World Cup this year sporting Italy training kit, jerseys, and other accessories from Soccer Box to show off their support of this team.

Gil Azzurri

"Gil Azzurri," as the Italian team is called, translates to The Blues, named as such for their classic blue jerseys. Although their flag is red, white, and green, blue is the color that denotes Italian royalty. Such a color is definitely fitting then for the Italy soccer jerseys as these footballers are nothing short of Italian royalty. They have proved that time and time again by their exquisite game play and by putting up major wins for the country.

Puma sponsors the jerseys for this team, as well as the navy Italy training kit. They certainly have created some dashing uniforms for these modern royals to wear for games as well as for training. There are many options available for fans to show their support for this great team, including flags, scarves, jackets, and sweatshirts. The World Cup may be in Brazil this year, but there is no doubt there will be a beautiful blue sea in the stadiums in support of the Italian National team.

Expectations for 2014

Expectations should be high for this team, as they have performed well in the past. However, during the UEFA qualification campaign for this year's World Cup they did not get seeded into the number one spot like many had hoped. They were drawn into group B and the last two games ended up being draws, so their seeding went down for the October 2013 rankings.

For this year they have been drawn into group D to be pitted against Uruguay, Costa Rica, and England. A tough draw indeed, as there are great teams in this group; however, many believe that the Italians can pull it through for the win. Fans will have to wait and watch as this year's FIFA World Cup plays out in Brazil to see if the royals in blue can indeed make it to the finals.

Cesare Prandelli, the coach of the Italian team since 2010, will certainly want to take the cup this year so he can add it to his list of accomplishments. He has taken the team to the runner up slot in the European Championship in 2012, and to third place in the Confederations Cup in 2013. Can he pull this one off as a World Cup win for 2014? Fans of the Italy football kit certainly hope so, but he will have to beat out some tough teams in the first group to do it.

Support the Blues

If they are going to win they are going to need the support of their fans, and what better way to do that than sport the Italy soccer jerseys? Show your pride for your team and for the sport during the World Cup this year with Soccer Box. Everyone in your family can enjoy supporting the team together.