The Japan national football team is one of the most successful soccer teams in Asia, and fans of the Japan football shirt are bursting with anticipation for their team's immediate future. That's because their team is headed to Brazil for the biggest event in international sports; the FIFA World Cup. When the games finally kick off in early June, you can expect team Japan's biggest fans to head down to cities like Rio De Janeiro, Sao Paula and Fortaleza to cheer their favorite team to victory on the international stage.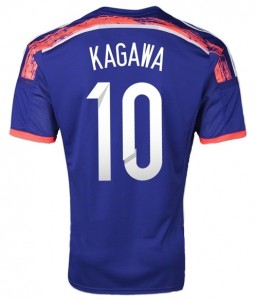 Japan will be participating in their 5
th
ever World Cup and fans of Zac Japan have never been more excited to see their team competing in the big dance. The team's official kit sponsor, Adidas, has released a brand new Kagawa Japan World Cup home jersey 2014 in celebration of the team's next shot at international fame. You can find it, and all your other favorite team Japan football merchandise at Soccer Box, in stock and ready to deliver to your door just in time for the 2014 World Cup.
Zac Japan Unveils new Home Jersey and Mascot for 2014 Games!
The Japanese national team is one of the most sponsored national football teams in the world. With strings of big name sponsors like Sony, Audi, Mizuho Financial and kit sponsor Adidas, Zac Japan is able to cross the boundary into popular culture in a way few other national teams can. Japanese fans of Samurai Blue are known to be some of the most dedicated fans of any national team, with roars of their fan chant - "Nippon Ole" echoing through international stadiums.
This year Zac Japan is celebrating its qualification into the 2014 FIFA World Cup with a brand new home jersey and mascot, unique from the ones they've had in the past. The team redesign starts with the Kagawa Japan World Cup home jersey 2014, a piece of merchandise honoring Japanese midfielder and Man Utd star player Shinji Kagawa. The deep blue and red trim of this jersey will be worn by your favorite team Japan players this year in the 2014 World Cup, so order early and get yours in time for kickoff day.
On the mascot front, Zac Japan has released an all-new and adorable mascot that many Japanese fans of the team already know and love. The mascot facelift comes in the form of everyone's favorite Pokemon, Pikachu, who will be filling in for the classic mascot, Karappe, during the World Cup in Brazil! The Pokemon franchise has been extremely successful and influential in Japanese pop culture, as well as in mainstream pop culture across the globe. Now the Japanese national team will be taking this charming cultural icon to Brazil to represent them in the World Cup, where the eyes of the world will be watching as they make their latest bid for international glory.
Japan National Team

International Soccer Hopes
The AFC, or Asian Football Confederation, and especially Japan's sub-confederation in East Asia, has never really seen the same sort of competitive spirit that the other soccer leagues of the world have enjoyed.  Team Japan however, has always been a world class soccer team, able to take to the pitch with the best countries in the world and put up a good fight. Some have described Japan's national team as a "Koi fish swimming with the guppies?" which seems to be an accurate assessment judging by the team's FIFA ranking compared to some of the others in its federation.
Finding good competition in its relatively secluded confederation has been hard for team Japan, and they have sought to expand its horizons by participating in other international tournaments, like the Copa America. Now, with the team's 5
th
consecutive World Cup qualification, they have another chance to show the world that they are not to be ignored, but will they be experienced enough to take down this year's stiff competition?  One thing is for sure - fans of team Japan are sure to show up looking good in a Kagawa Japan World Cup home jersey 2014 or another piece of Samurai Blue fan merchandise from Soccer Box.
You can find the
Japan home shirt
, scarf and more at the Soccer Box store; your one stop shop for soccer fan gear and kit.