John Terry first captained the Chelsea soccer club in December 2001, filling in for then team leader Marcel Desailly. It was a mere preview of what kind of footballer Terry would become, both as a defender and a leader. In the 2004 2005 season, following Desailly's retirement from professional football, Terry was selected by Chelsea manager Jose Mourinho as the permanent captain for the squad. The rest, as they say, is history! Read on as we assess the John Terry Premier League history and analyze his contribution to Chelsea FC and the EPL.

When John Terry dons the Chelsea home jersey 2014 2015 on May 24th for the final game of his team's 2014 2015 Premier League campaign (a home fixture against Sunderland), he will have officially led the Blues to four victories in top-flight English football. Not only has no other captain ever achieved that kind of success at Stamford Bridge, no one else has ever even come close. Prior to Terry taking the captaincy in 2004, the Blues had only won a single English top flight title: all the way back in 1954 1955. In his first season as captain, he led the soccer team to their first league title in 50 years. The next season, he did it again.

The Greatest DefenderÂ

It wasn't coincidence that Chelsea started winning the moment John Terry took the captain's mantle. On the contrary, it was Terry's talent as both a leader and a defender that allowed the Blues ascend to the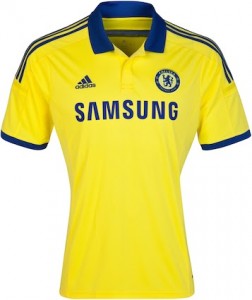 highest level in English football.

Indeed, in that first season as captain, Chelsea FC set records as a defensive team, only losing one match (after a jaw-dropping 29-week unbeaten run) and conceding just 15 goals. It was literally a season for the books, as the Blues set new Premier League season records for fewest goals conceded, most clean sheets (25), most wins (29), most away wins (15) and highest point total (95).

In the 10 seasons that John Terry has captained the Blues since that remarkable 2004 2005 season, the wearers of the Chelsea jersey have been remarkably consistent. Only once (in 2011 2012) did the club miss a top three finish in the EPL. And while the defensive tallies were never as good as they were in that first season with Terry as captain, there is no doubt that the now 34-year-old Englishman has changed the way the Blues play football.

Every Minute of Every Game

Even a decade-plus into his captaincy at Chelsea-and, based on age at least, arguably reaching the twilight of his career-John Terry is refusing to slow down. This season, as the Blues campaigned for their fourth Premier League title in a decade, Terry was intimately involved with every win, every block, every clean sheet, and every defensive maneuver. He played every minute of every game, in their Premier League winning run, something that very few soccer players, even captains, can boast.

Not only has Terry's determination to never leave the soccer pitch made him a dynamic, inspiring leader, and not only has it upped Chelsea's defensive game in countless ways over the years, but it's also allowed him to become a more prolific goalscorer than virtually any other defender in football. This season alone, he netted eight goals, and in his 17 seasons at Chelsea, he's scored 62.

That statistic makes John Terry the highest-scoring defender in Chelsea history, and also underlines why he is still the best defender in the game. He doesn't think of himself as just a defender, or even as just a captain. Instead, he's a tried-and-true team player, someone who takes chances when they come-whether that means blocking an offensive attack or launching one.

Terry's spot in the Chelsea record books will, of course, stand the test of time. Right now, he's third on the list of all-time appearances for the club, with 653. He'll need another 76 to reach second (occupied by goalkeeper Peter Bonetti) and 142 to ascend to the top spot (held by defender Ron Harris). Even if he stays at number three in terms of apps, though, he's number one in the hearts of many Blues fans, simply for how he's helped build the soccer club back into a title-winning force.

Celebrate John Terry's legacy and mark the end of the 2014 2015 season with a new official Adidas shirt from Soccer Box. The adult home jersey is out of stock, unfortunately, but the Chelsea away jersey is still in stock!