Anyone who's paid much attention to the 2014 2015 Premier League so far knows how well Chelsea FC is doing. Since the first weeks of competition, the Blues have been in a dominating position, and it doesn't look like that's going to change as the first third of the season winds down. The club is the frontrunner to take the division title this year, and fans can celebrate that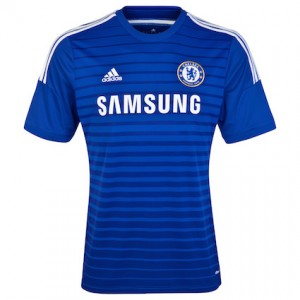 fact with a new junior Chelsea football kit or adult home jersey, available now at Soccer Box!

Whether you are looking for a training kit or a standard blue Adidas jersey, for kids gear or full-sized football shirts, you can find it here at Soccer Box. Chelsea is one of England's best and most popular teams, and we've stocked up on their merchandise this year to meet demand. Shopping for the young football fanatic in your family? Grab a Chelsea kids home jersey 2014 2015. This miniaturized version of the home kit that the Blues will be wearing this season will be sure to get your junior fan pumped for the next stage of the 2014 2015 Premier League!

2014 Versus 2013

There is no questioning Chelsea's current frontrunner position in the 2014 2015 Premier League. Not only has the football squad been sitting in the division's number one slot ever since week one, but they are also the only team that hasn't lost a match yet. With a record of nine wins, two draws, and zero losses, the Blues have a clear edge over other top teams like Southampton and Manchester City.

Of course, as some anxious fans will point out, Chelsea led the standings table for a time last season, and still ended up in third place when all was said and done. Could something similar happen this year? Could this year's junior Chelsea football kit end up not being the jersey of a championship football team?

The answer to both questions is, of course, "Yes." 11 matches into the season, it's simply too early to start having conversations about who will win all the marbles. From injuries to upsets, a lot of things could still happen that would result in a reorganization of the 2014 2015 Premier League standings table.

As fans in the Chelsea kids home jersey 2014 2015 will note, though, the Blues are in a better position right now than they were at this same time last fall. 11 weeks into the 2013 2014 season, the team was sitting in fourth place. They had won six matches, drawn three, and lost two.

Clearly, Chelsea is in considerably better shape at the moment. With nine wins and two draws, they have 29 points on the division standings table. In comparison, at this point last fall, they were only at 21 points.

Upcoming Matches

Also good news is the fact that the squad's upcoming weeks in the 2014 2015 Premier League look like they should net the team a few more easy wins. Kids in the junior Chelsea football kit will want to tune into soccer matches against West Bromwich Albion, Sunderland, Tottenham Hotspur, and Hull City between now and mid-December. All four clubs are currently situated in the lower reaches of the division table, and should present no real challenge to the bulletproof Chelsea squad.

After all, the only teams that have somewhat ruffled Chelsea's feathers thus far are the duo from Manchester. In September, the Blues drew a fixture with Manchester City, while a match a month later saw them tying with Man United. Both matches ended with scores of 1-1, and both were away matches.

Evidently, there's something in the water in Manchester that slows Chelsea down. At home, though, the Blues have been untouchable this fall. It will be interesting to see if they can beat the Manchester teams during home rematches in the New Year. Junior soccer fans will want to have their Chelsea kids home jersey 2014 2015 ready for such occasions.

You can find such junior or kids kit items for sale at Soccer Box. Get a beautiful blue junior Chelsea football kit as a Christmas gift for one of your kids. Or grab a 2014 2015 home jersey for yourself!