After a rocky start to the 2014 2015 Premier League season, the players from Manchester United football club have settled into a nice groove. In fact, they haven't lost a game since their November 2nd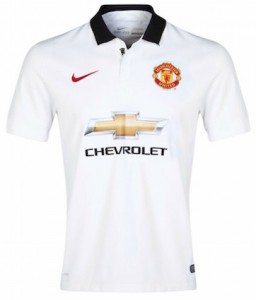 away game against Man City, and thanks to a recent win against Newcastle and a draw with Tottenham Hotspur, that undefeated streak will persist into the New Year. Start 2015 off by picking up a new junior Manchester United kit, or adult away jersey, both available at Soccer Box.

If you are looking to support the Red Devils in the New Year, then Soccer Box is the perfect place to shop for official club merchandise. Shopping for a junior football fan? Check out our Man Utd kids away jersey 2014 2015, a sleek white and black Nike kit that matches the jersey that players will wear at away fixtures throughout the rest of the season. If you are shopping for yourself, meanwhile, we have numerous versions of the Man Utd jersey available in full-sized, adult sizes.

A Good Time to Be a Man Utd Fan

Regardless of whether you choose a junior Manchester United kit or an adult away jersey, there is little doubt that it is a good time to jump aboard the Man Utd bandwagon. Last season was disastrous for the club, ending in a seventh place finish after years of the team being a top Premier League contender.

2014 2015 has been better, with new manager Louis van Gaal hoping to build a new dynasty at Old Trafford. So far, he's doing well with that goal: the Red Devils are in third place on the 2014 2015 Premier League table, trailing a bit behind Chelsea and Manchester City.

Third place is a very good position for a football club to be in right now. With 19 games played and all 2014 fixtures officially on the books, the 2014 2015 Premier League season is halfway over. That means that Man Utd has an established spot near the top of the standings table, but also still has ample time to make a run at the top slot.

Root for that campaign by picking up a new Man Utd kids away jersey 2014 2015 at Soccer Box! The junior football fans in your life will want to have their away kit ready by New Year's Day, when the Red Devils take on Stoke City at the latter's Brittania Stadium. It will be the first football match played in 2015, and could help set the tone for what's to come.

Recent Fixtures

Luckily, Manchester United should have momentum on their side, given outcomes of recent fixtures. A January 28th away game with Tottenham wasn't terribly impressive for the Red Devils, ending in a scoreless draw. Similarly unremarkable was a December 20th match with Aston Villa, which also resulted in a draw.

Other than those two recent hiccups, kids in the junior Manchester United kit have ample reason to believe in their soccer squad. The team has won some major victories lately, especially at home.

Case-in-point was a Boxing Day fixture against Newcastle, which ended as a 3-1 triumph for Man Utd. Captain Wayne Rooney was the star of that match, scoring the first two goals and providing an assist for Robin van Persie for the third.

Another home triumph came in the middle of December, when Manchester United beat last year's Premier League runners up, Liverpool, in a 3-0 blowout. Rooney and Van Persie both contributed goals in that match, as did midfielder Juan Mata.

The Red Devils haven't played nearly as well at home, yet junior fans in the Man Utd kids away jersey 2014 2015 still have plenty of moments to be proud of. For instance, on December 8th, the soccer squad flexed their away game muscle by beating Southampton 2-1. The victory was notable, given the fact that Southampton has spent most of the season in the Premier League top five.

Grab a new junior Manchester United kit or adult jersey at Soccer Box, and get ready to support the club in their New Year's Day match against Stoke.