Instead of leaving on a high, Jurgen Klopp ends his reign at Borussia Dortmund with a disappointing loss in the DFB Pokal final. Borussia Dortmund have come a long way from their mid-season doldrums. After dropping to dead last on the 2014 2015 Bundesliga standings table, the Black and Yellows were able to get themselves back into seventh place before the end of the season. They also beat Bayern Munich in a nail-biter of a DFB Pokal semifinal, keeping pace with the German football champions through extra time before beating them in a penalty kick shootout.

It was a solid bit of redemption, but not enough to convince Jurgen Klopp-who has coached BVB for a strong seven-year run-that he still belonged at the club. Feeling that he was no longer the best choice to lead Borussia Dortmund, Klopp resigned his post as manager, with the DFB Pokal final (against Wolfsburg) set to be his final game in charge.

One Last Hurrah

Needless to say, as the Black and Yellows donned the Borussia Dortmund shirt 2014 2015, both players and fans wanted to give Klopp a proper send off-one last hurrah, if you will. Klopp has been arguably the greatest coach in Dortmund history, managing the team to two Bundesliga titles (including their best-ever campaign, in 2011 2012), two Supercups, and one DFB Pokal. A win in the 2014 2015 German Cup would have been a fitting conclusion to BVB's Jurgen Klopp era.

Unfortunately, it wasn't to be. Borussia Dortmund eliminated Wolfsburg from last year's DFB Pokal tournament, beating them 2-0 in the semifinals, and the Wolves were ready to return the favor at this year's May 30th championship match.

The Final

Things started off well enough for BVB. Indeed, the Black and Yellows were the first on the board thanks to the ever-reliable Pierre-Emerick Aubameyong, who scored just five minutes into the match. Unfortunately, the wearers of the Borussia Dortmund football shirt couldn't hold that lead or live up to the early burst of momentum.

Around 22 minutes into the fixture, Wolfsburg's Luis Gustavo equalized the score. By halftime, the Wolves had taken a 3-1 lead, thanks to goals by Kevin de Bruyne and Bas Dost. Neither team would score in the second half, and Jurgen Klopp's Borussia Dortmund era would ultimately come to an end with a two-point loss.

Not that the BVB squad played bad football. On the contrary, the Black and Yellows led the game in terms of possession and took more shots on goal than Wolfsburg did. But many of Dortmund's shots went wide, and as Klopp said after the game, the Wolves were simply too good on the counterattack for the Black and Yellows to keep pace.

The Next Steps

The DFB Pokal loss officially ends Borussia Dortmund's 2014 2015 football campaign. Jurgen Klopp will now move on to the next stage of his football coaching career-though he hasn't made any management agreements just yet-while BVB will be helmed by a new leader: former FSV Mainz coach, Thomas Tuchel.

The good news is that Borussia did well enough in the final weeks and months of the 2014 2015 that the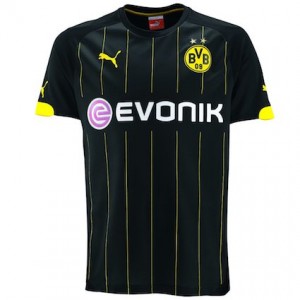 foundations have been laid for a better run in 2015 2016. On the last day of this year's Bundesliga campaign, for instance, with a 3-2 win against Werder Bremen, BVB secured Europa League qualification for next season.

In addition, BVB's strong performances in this year's DFB Pokal (finals) and Champions League (round of 16) show that the soccer club still has a lot of talent and potential-even if they weren't always showing it in 2014 2015 Bundesliga fixtures. Said another way, Tuchel has plenty of substance to work with over the summer, and we can't wait to see what he does with this beaten down but still resilient soccer team.

Mark the end of the season and hope for a better run next year with a new Borussia Dortmund shirt 2014 2015 from Soccer Box. You can also follow Soccer Box on social media to watch for new shirt releases, store discounts, BVB summer transfer news, and more. We can be found online at Instagram, Pinterest, Tumblr and other popular social networks.