As September neared its conclusion, and Juventus remained winless at home for the 2015 2016 Serie A season, head coach Massimiliano Allegri was getting angry. The Italian-born manager criticized his team for reading games wrong and giving up what should be easy wins. So what is causing the Juventus 2015 - 2016 Serie A struggles and can they overcome the issue?

A September 23rd at-home draw against Frosinone was particularly frustrating for Allegri, for numerous reasons. For one, Frosinone are Serie A debutantes this year, having finished second in the 2013 2014 Serie B. For another, Frosinone were on a four-game losing streak when they faced Juventus. And finally, Juventus looked to have the game in the bag with a 1-0 lead, until Frosinone defender Leonardo Blanchard netted a goal at the 90+2-minute mark.

The Frosinone draw was just one bum note in what has been a symphony of disappointment at Juventus this season. Just days prior to that match, on September 20th, the Zebras had picked up their first win of the season in an away fixture against Genoa. They lost their first two (with Udinese and Roma, respectively) and drew the third (a September 12th home game with Chievo) for a thoroughly unpromising season start.

On the Right Track?

Luckily, it looks like the Zebras could finally be on the right track. On Sunday, October 4th, the football club finally ended their lengthy drought of home wins. Hosting Bologna, Juve fell behind early, letting the opposing team score a goal just five minutes into the match. But the home team made a comeback, with Alvaro Morata equalizing the score late in the first half, and with both Paulo Dybala and Sami Khedira netting points in the second. Khedira, a free transfer from the summer, was making his Serie A debut.

The game ended 3-1 in favor of the Zebras, and Allegri was complimentary of his soccer squad's performance. He said the game was a good way for his club to "get back to our winning ways." With an at-home win finally under Juve's belt for the 2015 2016, Allegri hopes he can help his team "aim for consistency and stability on the pitch."

Not that Allegri only had praise for Juventus on the 3-1 Bologna win. On the contrary, he criticized his football club for conceding a goal so early, and mentioned a moment in the first minutes of the match where Alvaro Morata could have passed the ball to create a better scoring opportunity. Even though the match wasn't perfect, though, it could be a sign that Juve are finally on the right track.

Getting Back into Title Contention

The question now is whether or not Juventus can get back into title contention for the 2015 2016 Serie
A. The Zebras are gunning for a fifth consecutive Italian football championship this season. If they manage the feat, it will be only the second time in the soccer club's illustrious history. Juventus previously won five titles between 1931 and 1935.

Of course, before we can start talking about Juventus as title frontrunners, the football club will have to make up some serious ground. The Zebras are in 12th place right now, with just eight points from seven fixtures. That tally leaves the soccer team 11 points behind table leaders, Fiorentina, but just five points clear of the top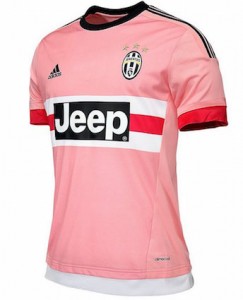 five. If Juve can just string together a few wins, we could be looking at a very different table in a month.

The good news for fans in the Juventus home jersey 2015 2016 is that the Zebras clearly haven't lost all of their mojo. The reigning Italian champions have won both of their first two matches in this year's Champions League competition. They scored a surprise win against Manchester City in the first group stage match, and shut out Sevilla 2-0 in the second. In other words, Juventus still know how to win games; they just need to bring that momentum back to their domestic league contests.

Do you think Juventus still have a shot at the Serie A title or have they simply fallen too far down the table to make a comeback? Follow the ongoing action of Italian football, by following Soccer Box on social media! We post daily on multiple social platforms including Facebook, Pinterest, and Tumblr.