In what was one of the most highly anticipated matches of the entire 2015 2016 Champions League group stage, and Juventus beat Sevilla 2-0 to establish a clear lead in Group D. The fixture was significant as a match-up between two football clubs that excelled particularly well in UEFA competitions last season. Juventus, of course, went all the way to the UCL finals, though they ultimately lost the tournament to FC Barcelona. Sevilla, meanwhile, beat Dnipro Dnipropetrovsk to clinch their second consecutive Europa League title.

The Struggle of Juventus

Normally, Juventus would have been the favorite not just to win this particular match, but also to top Group D period. In fact, initial predictions for the group stage questioned whether or not Sevilla would even advance to the knockout rounds. After all, Group D also includes Manchester City, who have been one of England's most powerful soccer clubs in recent years.

However, thanks to a slow start to the 2015 2016 season for Juventus, Sevilla had a major opening here. The Zebras have struggled to establish a position in the Italian Serie A this fall, only picking up five points in their first six league matches. In fact, Juventus-who are shooting for a fifth consecutive Serie A title this season-are currently in 15th place on the league standings table.

The good news for fans in the Juventus home jersey 2015 2016, though, is that Juve's domestic woes don't seem to be extending to the Champions League. Despite a tough group stage draw and one of the least favorable week one fixtures (an away match against Man City), Juventus have managed to win both of their 2015 2016 UCL games so far.

Alvaro on Fire

On September 15th, the Zebras overcame a 57-minute own goal to beat Manchester City 2-1. There was no need for Juve to come from behind in their September 30th bout with Sevilla, though: the reigning Europa League champions never got on the board.

Not that Sevilla played badly. On the contrary, the two football clubs split possession of the ball almost right down the middle, with Sevilla taking the edge with 51%. But Juve's defense was simply too good for the Red and Whites to overcome. Indeed, Sevilla barely mounted a dangerous attack for the entire match.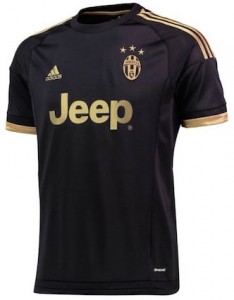 Juventus, meanwhile, hammered the Red and Whites with promising scoring chances all match long. Alvaro Morata was an especially big problem for Sevilla during the match, coming close to the net repeatedly during the first half. When the Spanish attacker finally made good on one of his scoring opportunities-a 41-minute beauty, courtesy of a pitch-perfect cross from Andrea Barzagli-the game was all but decided.

The Zebras played a more defensive game in the second half, but still managed to put another point on the board before all was said and done. 24-year-old attacker Simone Zaza subbed in for Morata at the 80-minute mark and netted Juve a clear game-winner seven minutes later.

Sevilla's Squandered Opportunity

For Sevilla, the 0-2 loss rings as a clear missed opportunity. The Spanish club had the advantage in Group D after game one, where they beat Borussia Monchengladbach in a dominant 3-0 home match. A win
against Juventus would have helped Sevilla to stake an early claim on one of the round of 16 slots.

Unfortunately for the Red and Whites, Juve's domestic troubles continued not to impact their Champions League play. The Zebras played beautiful football on Wednesday afternoon, and while they didn't dominate the game in terms of possession, they were still very evidently the better team on the field.

Sevilla can take solace in the fact that they are still second in Group G-albeit slightly. Manchester City earned their first three points of the 2015 2016 UCL with a 2-1 win against Borussia Monchengladbach. The Red and Whites still have the better goal difference, and will hold their second-place slot at least until they play Man City on October 21st.

Are Juve's chances of returning to the UCL finals still intact, despite their domestic troubles? Could Sevilla still land one of the round of 16 spots? Connect with Soccer Box on social media to read additional Champions League coverage or to share your thoughts on Group D! Soccer Box is active on multiple social networks including Facebook, Instagram, and Tumblr.