On October 5th, Poland's Legia Warsaw officially sacked their manager, Henning Berg. Despite the fact that Berg had coached the Legionnaires to an Ekstraklasa league title in 2014, a runner-up finish in 2015, and a Polish Cup victory in May, the football club didn't seem to hesitate in ejecting him at the first sign of trouble. Legia Warsaw weren't even in deep trouble, sitting fourth on the 2015 2016 league table when Berg was fired.

In a statement, Legia chairman Boguslaw Lesnodorski said that "the current formula of cooperation with the coach has expired, as it didn't guarantee accomplishment of all our goals in terms of sporting results during this season and the team's development." Just like that, Berg's 22-month tenure at Legia Warsaw came to a close. The club didn't take long to appoint a replacement, and we take this opportunity to profile the new Legia Warsaw manager Stanislav Cherchesov.

A New Era

Still, even if Berg didn't really need to go, judging by his soccer team's standings and statistics, things have taken a turn for the better since the football club hired a new manager. The new appointee, Stanislav Cherchesov, coached his first match with the Legionnaires on October 18th. The game, a home fixture against Cracovia Krakow, ended 3-1 in favor of Warsaw-a good start for Cherchesov. He has since boosted his club's Ekstraklasa position from fourth to second-though his team has a fair distance to go if they are going to catch Piast Gliwice at the top of the table.

Cherchesov's arrival at Legia Warsaw-along with the summer signing of Nemanja Nikolic-marks the start of a new era for the Polish club. Since donning the Legia Warsaw home jersey 2015 2016, the 27-year-old Nikolic has outscored every other player in the league this season. If Cherchesov can expand Nikolic's talent and build a successful soccer squad around it, he could potentially win a Polish league title his first year out of the gate.

Cherchesov's ResumeÂ

Not that this job is Cherchesov's first rodeo. On the contrary, the Russian coach has been managing soccer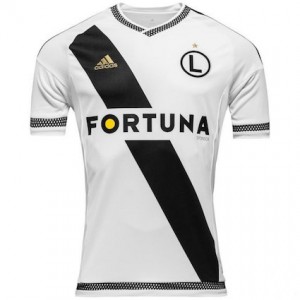 clubs for over a decade now, and Legia Warsaw marks the eighth team he's worked with. His appointment at Warsaw, though, does mark his first coaching job in Poland. He's previously coached in both Austria (FC Kufstein and Wacker Tirol) and Russia (including Spartak Moscow, Zhemchuzhina Sochi, Terek Grozny, Amkar Perm, and Dynamo Moscow). As a multi-linguist who speaks Russian, German, and English, Stanislav has been able to move around more than many other Russian-born managers.

Unlike Henning Berg, a defender who spent most of his playing career in the English Premier League, Stanislav Cherchesov was a goalkeeper who spent the majority of his 21-year playing career in the Russian Premier League. He is most well known for his time at Spartak Moscow, where he played not one but four stints throughout his career.

Cherchesov first joined Spartak Moscow in 1984, sticking around until 1987. In those three years, though, he only picked up 13 league appearances and ended up transferring over to Lokomotiv Moscow in 1988. As the first-choice goalkeeper at Lokomotiv, Stanislav made a strong impression-so strong that, when Spartak lost their top goalkeeper in 1989, he returned to the club for a second chance.

The second stint at Spartak was the peak of Cherchesov's career. Between 1989 and 1993, he recorded 121 league appearances with the football club, helping them to win four league titles. After that, he spent time at both Germany's Dynamo Dresden and Austria's Tirol Innsbruck, but he always bookended those international stints with returns to Spartak Moscow. Appropriately, he ended his playing career at Spartak in 2002.

Prospects for Legia Warsaw

Indeed, Stanislav's best coaching work was arguably seen at Terek Grozny, a club that jumped from 12th place in the 2010 Russian Premier League to eighth place in 2013, after his two seasons in charge. He found similarly unexpected success at Amkar Perm in 2013 2014, good work that earned him the job at Dynamo.

Can Stanislav Cherchesov finally come into his own as a coach at Legia Warsaw? Or did the football club make a mistake firing Henning Berg so rashly? Link up with Soccer Box on social media to share your thoughts! You can find us on Instagram, Pinterest and Google +.