Following Ligue 1 2015 - 16 week 15 three-time consecutive champions Paris Saint Germain still have yet to drop a game. The reigning title holders won once again on Saturday, beating Troyes in a 4-1 home match. It's the ninth league victory in a row for the Parisians, who showed signs of weakness in mid-September when they drew two matches in a row, but who have been borderline flawless ever since. PSG have only conceded five goals in those nine matches (while scoring 27) and only allowed Troyes to net a point in the closing minutes of Saturday's match.

The nine-game winning streak has made the wearers of the PSG home shirt 2015/16 more or less untouchable on this season's Ligue 1 standings table. With 41 points and a goal difference of +29, the Parisians lead by a landslide over current second-placers Caen. Following their own 4-1 victory over the weekend-against Bordeaux-Caen have the second-best win percentage in the league, with nine wins from their first 15 games. Still, Caen's point total of 28 and goal difference of +3 leave the soccer squad almost impossibly far behind Paris Saint Germain.

An Interesting Table

Still, despite the fact that Caen are probably, at best, competing for second place in the 2015 2016 Ligue 1, the fact that the football club are so near the top of the table is surprising and impressive nonetheless.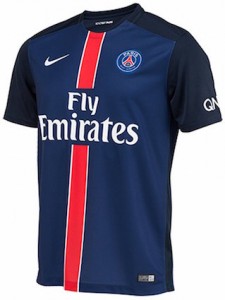 Last season, Caen won just 12 games total throughout the entire 38-match Ligue 1 season. They finished the year in an unglamorous 13th place.

Caen's success isn't the only interesting characteristic of the current Ligue 1 table. Other than PSG, the top of the league standings after week 15 is nothing any football pundit would have predicted. Angers, a soccer club promoted up from Ligue 2 last year, are currently sitting third on the table, following a 2-0 win against Lille over the weekend.

Last season, Angers finished third in Ligue 2 to earn promotion. Even in the second tier of French football, the team only won 18 games drawing 10 and losing 10 along the way. This season, Angers have won seven and only lost three. They are one of the least defeated soccer teams on the table this year, along with PSG, Rennes, and Monaco-despite the fact that they haven't participated in the Ligue 1 since 1994.

Granted, Angers haven't played most of their toughest fixtures yet, and will have their hands full in December, with games against Paris Saint Germain, Olympique Lyonnais, and Saint Etienne all on the schedule. Still, it's surprising for a recently promoted team to be this highly ranked at any point in the season-let alone after 15 weeks of competition.

The Rest of the Field

Even with the unexpected successes of Caen and Angers, most of last year's top finishers aren't far from the zenith of the table. Lyon have lost their last two league matches in a row-defeats against Nice and Montpellier that cost the football club the second-place spot-but will likely bounce back this week in a match against Nantes. Saint Etienne, meanwhile, did bounce back from a two-game losing streak this past weekend, winning a 3-0 second-half thriller against Guingamp.

The two biggest disappointments of the 2015 2016 Ligue 1 season have been AS Monaco and Olympique Marseille-teams that met head-to-head for their week 15 match. Monaco ascended from a Ligue 2 victory in 2013 2014 to
become one of France's most dependably solid football clubs in the two seasons since. This year, though, the Red and Blacks have struggled to get into a groove. They've only lost three games, but have drawn as many games as they've won and have had trouble even stringing two consecutive victories together.

Olympique Marseille, meanwhile, have been worse. After leading the table for most of the 2014 2015 season's first half, Marseille tumbled to sixth place in the final standings. That free fall has continued this season, with the soccer club losing six of their first 15 matches. The Olympians did manage a 3-3 draw against Monaco this past weekend, though, which could be a step in the right direction. The outcome puts Monaco in seventh place and Marseille in 11th.

Will the remainder of the 2015 2016 Ligue 1 season be as unpredictable as the first 15 weeks, or will order be restored in the coming weeks? And does the rest of the table even matter, since Paris Saint Germain have more or less already locked down a fourth consecutive victory? Talk Ligue 1 action with other fans by linking up with Soccer Box on social media! We are active on multiple platforms including Instagram, Pinterest, and Google +.