What happened? After 11 competitive weeks into the 2014 2015 Premier League season, Liverpool football club has assembled a record of four wins, two draws, and five losses. At this point last fall, the Reds had seven wins, two draws, and two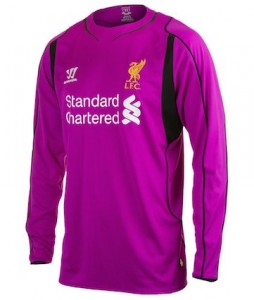 losses. This year, they're in 11th place after 11 weeks; last year, they were in second place at the same juncture. Has the soccer team lost its mojo, or do they just need some extra fan support? Could fans in Liverpool goalkeeper kits or home kits help turn the tide for the lagging football team?

If a lack of fan support is the issue, Soccer Box can help. Given Liverpool's outstanding runner-up finish in the 2013 2014 Premier League, we stocked up on kits and other football merchandise for 2014 2015. From kids home and away kits to the Liverpool home goalkeeper jersey 2014 2015, we have every piece of Reds football gear you could possibly want. The goalkeeper jersey is particularly striking: a long-sleeved Warrior jersey with a vibrant purple color!

The Liverpool Season So Far

Some extra support in the form of fans wearing Liverpool goalkeeper kits at matches could never hurt the Reds. However, it's likely that lukewarm fan attention has not been the soccer squad's biggest problem in the 2014 2015 season.

Indeed, from the very start of division play this fall, Liverpool didn't look like the strong soccer team we saw for the majority of the 2013 2014 season. A week one home win against Southampton-now the division's second-place club-was strong, as was a 3-0 victory over Tottenham Hotspur in week three.

However, the first five weeks of play also saw rough defeats at the hands of Manchester City, Aston Villa, and West Ham United. Liverpool was expected to be a contender in the 2014 2015 Premier League, but before September was even over, the football team was dropping out of the top 10.

Building on Defense

One of the notable things about Liverpool this year is that the soccer team seems to be taking more of a defensive stance than an offensive one. That's a change from last season, when striker Luis Suarez led the entire Premier League in terms of goals scored.

Suarez has moved on to La Liga and FC Barcelona, though, and with no prime attacker to take his place, the Reds have had to change their play style. In that sense, Simon Mignolet, the primary wearer of the Liverpool home goalkeeper jersey 2014 2015, is one of the squad's star soccer players this year. Even in Liverpool's losses this fall, the opposing club hasn't ever won by more than two points, and Mignolet's goalkeeper saves can be credited for that.

A Lack of Scoring PowerÂ

Unfortunately, in order to move back up the 2014 2015 Premier League ladder, the Reds will need more than just a star in the Liverpool goalkeeper kits. Indeed, the squad needs someone who can find the back of the net and score points-if not like Suarez did, then at least an average of one goal every two games.

Needless to say, Liverpool hasn't had that this year. Raheem Sterling has been the most effective offensive player in the Liverpool jersey this fall, and he's only scored three goals in league play. Captain Steven Gerrard has scored two. No one else has scored more than one.

Perhaps the most worrisome thing about these low scoring figures is that both Gerrard and Sterling are midfielders. Where are the club's forwards? And why have they been leaving Mignolet to take a starring role for the squad, in the Liverpool home goalkeeper jersey 2014 2015, instead of taking it themselves?

One issue at play has been injury. Forward Daniel Sturridge was the second most productive offensive player for the Reds last year, with 21 goals. He's missed the majority of the football fixtures so far this fall due to injury, but will supposedly be returning at the end of November.

Mario Balotelli, meanwhile, has been nothing if not a disappointment. Balotelli transferred from Milan to Anfield this autumn and was likely expected to be the replacement for Suarez. So far, that hasn't worked out: the Italian striker has scored no goals in league play, but has proven adept at collecting yellow cards. He's gotten three so far, most recently in a 2-1 loss against Chelsea.

Will the return of Sturridge help to turn things around for the Reds? If you think so, stop by Soccer Box today to pick up a few pieces of football gear and support the squad. Whether you are looking for Liverpool goalkeeper kits or a home jersey 2014 2015, you can find it here.