20th May 2016. By Edward Stratmann.
Mainz's inspirational captain, Julian Baumgartlinger, has unquestionably been one of their most influential driving forces behind their remarkable season.
Martin Schmidt's high octane outfit obtained an amazing sixth place league finish, just five points outside the Champions League qualification places, and Baumgartlinger's energy, intensity and aggression in midfield were absolutely crucial to this. He is indeed the man whose unwavering commitment and dedication to the cause sets the tone perfectly for his teammates to follow, and who best embodies his
manager's all-action philosophy.
Within Schmidt's side, who run and sprint more than any team in the Bundesliga, the ultra fit Austrian, who himself runs over 12km per game on average, along with using his obvious footballing qualities, has ensured that he's been an undisputed starter for Mainz.
Unsurprisingly, he's started every single match he's been available for except one, when he was on the bench due to suffering a bout of flu. Moreover, Mainz's durable midfield warrior racked up 2716 league minutes, which puts him third for most minutes played for his team, behind only talented goalkeeper Loris Karius and exciting attacking dynamo Yunus Malli.
When asked about his supreme fitness, Baumgartlinger noted the key reason why he's so strong in this regard comes down to good old fashioned hard work, saying: "Behind this is a lot of very hard work. I pay attention to this not only since I am a professional, but ever since I've trained as a young lad.
"This goes back to my childhood, because I have always been driven a lot with sports. For five or six years I was in athletics, and then I started to play football.
"Since those foundations have been formed, later I realized: Whoever is fitter than the others, has a big advantage."
Baumgartlinger's formed an outstanding relationship with his fellow central midfield colleague in Danny Latza, another with great running power, as they've become one of the most uncomfortable double pivots to come up against in the league. The combative duo forever get in the face of their opposition with their relentless pressing and harrying, with both never being shy to launch into a tackle and physically impose themselves.
As Mainz's skipper, Baumgartlinger can always be seen doing whatever he can to help a teammate. Whether tracking back to support his central defenders, shifting across to assist his fullbacks or covering for Latza if he's caught out in an advanced position the 28-year-old's selflessness has shone through in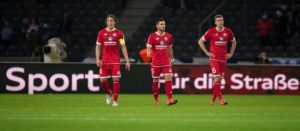 spades this campaign.
His magnificent defensive contribution is backed up aptly by the fact he completed the most tackles per game of any player in the Bundesliga, applying a stirring 3.6 per game. In addition, his worth is undoubtedly amplified by way of his important 2.5 interceptions pg, 1.9 clearances pg and 2.5 won aerial duels pg.
"I think my strengths are in times of defence. Especially in the phases without the ball, I can really influence," he explained.
"With my fitness I enrich our team even if I do not have the ball. With my running power I can win back the ball and win many battles. I can always intervene actively, no matter what else happens. I always like to fight in the game."
While he's obviously excellent in the defensive phase of the game, there's no doubting he still enjoys the attacking side. "Duels are only a means to an end. I want to have the ball," he insists.
Although he's prone to the odd sloppy touch, the former 1860 Munich and Austria Wien enforcer's a proficient distributor and his surging forward runs always provide plenty of offensive impetus for the 05ers.
Importantly, however, he and Latza strike the right balance in attack, as whenever one goes forward, one sits back and holds their position to ensure cover is present in the event of a turnover. Baumgartlinger, who became familiar with being the permanent holder, recently expressed how much he enjoys the new
found attacking freedom Schmidt affords him.
"I was often the defensive one in the double six, but now this is changing," he said. "Now I take turns and can also push forward, sometimes even up in the penalty box - as was the case with my first Bundesliga goals."
Now 28, it's been fantastic to see Baumgartlinger continue his progression under Schmidt, after flourishing under the expert tutelage of now Borussia Dortmund manager, Thomas Tuchel.
With Mainz looking forward to yet another massive campaign next time round, you can guarantee their multifaceted midfield powerhouse will be doing everything in his power to propel his side to go one step further and achieve a coveted Champions League qualification spot.
The uncompromising midfielders physicality, athleticism, mental fortitude and leadership will see to it.
More from Edward at
Licence to Roam
.
Follow @EdwardStratmann
Follow @soccerboxcom