It's been an unpredictable season so far for the 2014 2015 Manchester United squad, to the point where no one is really ready to make judgment on whether or not the club is doing better than it was at this point last year. Even 12 weeks into Premier League play, things are still a little blurry for the Red Devils. However, if you were thinking about picking up a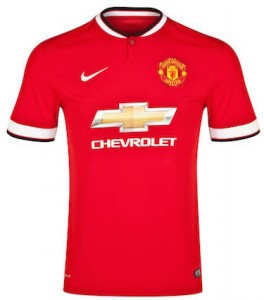 Manchester United kids shirt for the youth soccer fan in your life, you now at least have one more reason to do so: United recently won a notable victory against Arsenal.

The win against Arsenal is a milestone for the 2014 2015 Man Utd squad, as it is one of the team's first victories against a top-flight British football club. Most of United's wins this fall have come against lower-ranked soccer teams. The victory could be a sign that the Red Devils are ready to contend for a title again, and you can celebrate that fact by stopping by Soccer Box today and checking out our selection of team gear. Shopping for kids? Youth fans will love the Man Utd youth home jersey 2014 2015. Shopping for yourself? Pick up an adult home shirt or away shirt! Whatever you're looking for, you can find it here.

Man United's 2014 2015 Season Record

The win against Arsenal's Gunners brings Man Utd's 2014 2015 Premier League record to five wins, four draws, and three losses. That's after 12 weeks of play, which means that the football season is now officially one-third of the way over.

If the soccer season ended today, Manchester United would finish in fourth place in the division. That would be a significant improvement over last year's seventh place finish, and would even give the Devils a chance to qualify for the UEFA Champions League. (The fourth place team advances to a playoff round for UCL tournament qualification.)

Undoubtedly, qualifying for the Champions League would appease fans in the Manchester United kids shirt and would mark the 2014 2015 run as a successful one for the football club. It would also likely earn coach Louis van Gaal a lot of respect, as the coach - who came aboard at Old Trafford during the summer-would be largely credited with turning things around.

Still, it hasn't exactly been a great season for Man Utd-at least not considering the club's prestigious history. Just two years ago, the Red Devils won England's top football division with a record of 28 wins, five draws, and five losses. Unless the squad can register a practically perfect record from here on out, the Man Utd youth home jersey 2014 2015 will remain associated with a lesser incarnation of the Man United team.

The Arsenal Match

The win against the Gunners, though, could help to shift the narrative for Manchester's current season. Arsenal is arguably the first "big" club that the Red Devils have beaten in the division this fall. The Gunners have finished in the Premier League's top four every year in recent memory, so any squad that can beat them is worth watching.

Prior to this match, Manchester United's most notable win of the season was a 2-1 home win against Everton. Everton came in fifth place on the division standings table last year. Man Utd's most high-profile matches, meanwhile, included a home match against Chelsea (which ended in a 1-1 draw) and an away game with Manchester City (in which United lost, 0-1).

The Arsenal match was an away game, and ended in a 2-1 score, thanks mostly to an 85-minute goal from captain Wayne Rooney. The other point was an own goal scored by Kieran Gibbs of the home squad. Those two goals and the victory helped United jump up two spots on the 2014 2015 standings. (The youth fans in the Manchester United kids shirt were especially excited.)

Man Utd has high profile games left to play this year. In particular, you will want to make sure your kids have a Man Utd youth home jersey 2014 2015 for a December 14th home fixture against Liverpool. Southampton is another major opponent to watch, as they are currently trailing only Chelsea in the division.

Can Manchester United recover from last year's dismal performance and at least qualify for the Champions League? Only time will tell, but while you wait to find out, why not stop by Soccer Box to pick up a new team shirt? Whether you need a Manchester United kids shirt for the youth football fan in your family or adult home jersey for yourself, you can find it here!