Memphis Depay led PSV Eindhoven to a title in the Dutch Eredivisie this year, netting 22 goals in league and 28 overall to become the football club's leading scorer. From the looks of it, though, Depay will be trading his PSV jersey for a Man Utd shirt next year. Reports suggest that Manchester United sign Memphis Depay, and have agreed to pay £31 million for the young Dutch winger. Depay, of course, has played under Man United manager Louis van Gaal as part of the Netherlands national soccer team-something that should make him a natural fit at Old Trafford.

Are you excited about the transfer? Are you ready to welcome the talented and promising Depay to the English Premier League for the next stage of his already impressive career? If so, stop by Soccer Box today and celebrate the pending transfer by picking up a few new pieces of official Red Devils gear! We still have stock remaining of several 2014 2015 football kits, including the adult home shirt, the green goalkeeper jersey, and the Manchester United kids away jersey 2014 2015. The away shirt is even available for a 10% discount!

Depay's Career so Far

It's not difficult to see why Louis van Gaal wants to have Memphis Depay playing as a part of his squad at Old Trafford. Depay played impressively under van Gaal at the 2014 World Cup in Brazil.

In a group stage fixture against Australia, the Dutch squad were trailing 1-2 shortly before halftime, until Depay provided an assist to allow Robin van Persie to equalize. 10 minutes later, he scored a goal of his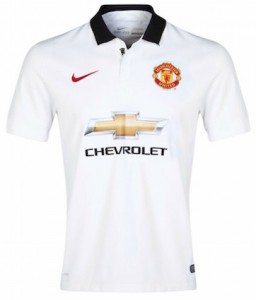 own-not only providing the game-winning goal, but becoming the youngest Dutchman to ever score at the FIFA World Cup. He was ultimately shortlisted for the tournament's Best Young Player award, though the prize went to Paul Pogba.

These successes at last year's World Cup are just one of the reasons why Memphis Depay is an in-demand footballer. The 21-year-old winger has also had a dynamic run at PSV Eindhoven, since first donning the club's jersey-and launching his senior soccer career-back in February 2012.

During his first two seasons at Eindhoven, Memphis was only a minor factor. In 2011 2012, he made 11 appearances and scored five goals. The next year, he upped his app total, but only netted three goals.

It wasn't until 2013 2014 that Memphis enjoyed a breakout soccer season. He played in 32 of PSV's 34 Eredivisie fixtures, scoring 12 goals and nearly taking the mantle of "top goal scorer" for the club. (The title went instead to Jurgen Locadia.)

Things got even better for the young Dutch winger over the past season. Indeed, Depay has done the 2014 2015 PSV Eindhoven jersey proud, scoring 20 goals in league to lead PSV to their first Eredivisie title since 2007 2008.

Manchester United: Rebuilding and Expanding

Depay's gradually improving statistics have now made him ready for the big leagues of association football: the English Premier League. If he can score 20 or 30 goals in 2015 2016, Memphis could have the potential to become Manchester United's top goal scorer. Who knows, he could even lead the Red Devils back to the top of English football-a position the club hasn't occupied since 2013. (The top scorer in the Man United jersey this year, captain Wayne Rooney, has only netted 12 goals in league.)

Rumor has it, though, that Memphis Depay is just the first in series of new offensive signings that the Red Devils will be making this summer. United's transfer target list also reportedly includes Real Madrid's Gareth Bale, Tottenham Hotspur's Harry Kane, PSG's Edinson Cavani, and others. Manchester just had to act fast to nail down the transfer deal with Memphis because Paris Saint Germain were also showing interest.

Celebrate the arrival of the young Depay at Old Trafford today, with a Man United adult home shirt, or a Manchester United kids away kit from Soccer Box. You can also follow us on social media to read daily football news, follow transfer rumors, or stay up to date on the latest jersey or merchandise releases. We can be found on Facebook, Tumblr, and other popular social networks.