Manchester United were founded in 1878 as Newton Heath LYR Football Club. They are now one of the biggest football clubs in the world, with supporters in all corners of the globe. American sportswear manufacturer Nike design the clubs soccer jerseys, and training wear in addition to items such as the Manchester United Nike prestige football that is designed specifically for supporters.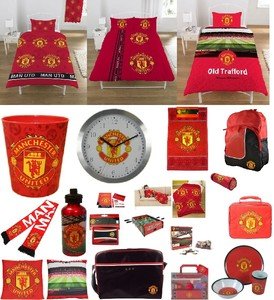 The Manchester United Nike prestige football is a high quality soccer ball. It is designed in the clubs famous home team colours of black, red, and white.
The famous club crest is featured centrally in the design along with a large Nike logo. The traditional style ball design features 32 hexagonal, machine-stitched panels, along with a strengthened rubber bladder for longer lasting shape.

The Red Devils as they are often referred to, are exceptionally proud of their history and heritage. The city of Manchester was once a thriving industrial area, the areas main output during the 18th Century was cotton.

The team's kit, training wear and other Manchester United souvenirs often pay tribute to this heritage by using the gingham check pattern in their design.

This season's away shirt utilises the gingham checks in a navy blue colour. The Manchester United Nike prestige football uses the gingham design in the black panel around the centre of the ball.

Making it great for any fan whether used for a kick around with friends, soccer training or displaying at home to signify your support for the Red Devils. Shop for yours today online at Soccer Box.

Estimates of how many fans Man Utd has around the world put the total to be between 75 and 333 million. This is a huge number of people to buy club branded merchandise.

Statistics released by Nike show that the teams shirts are there best selling football shirt, with 1.4 million units sold per year during the past 5 seasons. Manchester United souvenirs are another popular sales area.

Supporters of any football club around the world like to show pride and support for their favourite team by wearing and displaying items with club crests or logos on.

Other than the home and away jerseys Manchester United souvenirs such as scarves, hats and gloves can be worn to the match and every day. These items are also a much more affordable way of identifying yourself as a fan.

Birthday, Christmas, anniversaries and other special occasions such as Fathers Day in western society are traditionally times where we gift gifts to one other.

We put a lot of thought into selecting the perfect gift to suit the tastes of the person we are giving too. For example for a Red Devils fan that enjoys a game of soccer the Manchester United Nike prestige football may be a great choice.

If you are a Man Utd fan you may have received Manchester United souvenirs as gifts in the past, or why not consider asking for a team mug, towel or pint glass next time you are asked what you would like.

If you are looking to buy a gift for a Red Devil why not have a look at the great selection of official novelty team gift ideas that are available.

Do you like this season's official Nike kit and training wear range for the Red Devils?

What do you think about using the gingham checks to reflect the clubs heritage?

At Soccer Box we have a large selection of official Manchester United Souvenirs available.