Born in 1925, such was the impact of Nílton Santos, that he still today makes lists of the best footballers of all time. Santos was born in Brazil and spent the whole of his club career with Botafogo, he played for the senior team from 1948-1964. He mostly played as a left-back, and he won many honours during his career with more bestowed upon him after his retirement. Santos passed away at the age of 88 on 27th November 2013.
What Makes Santos So Special
Nílton Santos is widely regarded as one of the best ever defenders to have ever played football. He is said to have revolutionised the left-back position by demonstrating that players in that position can be successfully used as part of the attacking strategy of the game in addition to defensively.
During the prime of his career Santos made some incredible runs down the left wing, of the like not seen before from footballers playing in his position. This enthusiasm for playing a more forward position arose because he was originally an attacking player asked to take the position of defender, which he did reluctantly. However, true his passion for the game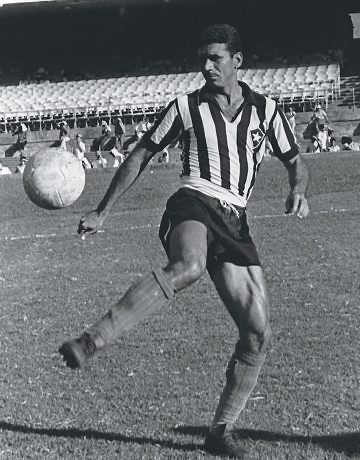 he took the position and ran with it so to speak!
From his defensive position Nílton Santos scored 11 goals for Botafogo and three for the Brazil national team. Perhaps the most noted goal of his career was at the 1958 World Cup against Austria. Santos ran the ball to the halfway line after winning it from an opposing player, and passed to his teammate Jose Altafini. Instead of going back into his own half, he kept running, a teammate passed the ball back to him and he put it in the net with the accuracy and power of an elite striker.
Santos lived and breathed football. Football was his passion; he studied the game and there was nothing he did not know. Due to this he fondly nicknamed 'The Encyclopaedia'. During his time at Botafogo he took younger less experienced players under his wing and helped them to live up to their potential. And following his retirement as a player he took up coaching.
Team Based Achievements of Nílton Santos
At club, international and individual level Nílton Santos has many honours and achievements to his name. With Botafogo he won the Campeonato Carioca on four occasions; 1948, 1957, 1961 and 1962. He was also part of the Botafogo team to win the Torneio Roberto Gomes Pedrosa twice in 1962 and 1964.
While loyal to Botafogo throughout his career he excelled most in the International arena, playing for his national side Brail. Playing for Brazil he was part of the infamous squad that won back-to-back FIFA World Cup titles in 1958 and 1962. In total he helped the team secure 13 titles during his national career that ran from 1949-1962.
All titles secured with Brazil:
World Cup: 1958, 1962
South American Championship: 1 title in 1949
Panamerican Championship: won in 1952
Taça do Atlântico: two titles 1856 & 1960
Copa Rio Branco: 1950
Taça Oswaldo Cruz: 6 time winners; 1950, 1955, 1956, 1958, 1961, 1962
Individual Honours Bestowed on Santos
During his time as a professional footballer and after his retirement, the contribution to the game of Nílton Santos has been awarded with many accolades. During his time as a player he was named as part of the FIFA World Cup All-Star Team in 1958, and as part of the World Soccer World XI in both 1960 and 1961.
Perhaps more notably he has been honoured with even more awards in recent years, noting the ongoing recognition of his importance to the game of football. Below is a list of the
more recent accolades bestowed upon Nílton Santos.
1998 – World Team of the 20th Century
2004 – FIFA 100
2009 – Golden Foot (as a football legend)
He was also named in 9th place as the IFFHS Brazilian Player of the Century. In addition, he has is listed in The Best of the Best – Player of the Century: Top 50. Santos has also been inducted into the Brazilian Football Museum – Hall of Fame located at Estádio do Pacaembu and the Maracanã Stadium.
Evolution of Brazilian Football
Nílton Santos was most certainly a pioneer who helped to shape the game of football, specifically the role of defenders and the evolution of the left-wing position. Brazil to this date hold the record number of World Cup victories with five in total, starting with the 1958 victory. They are a team feared by opposition and always in contention as potential winners of football's most prestigious tournament.
Whether you are an avid follower of the Brazil national team or this article as piqued your interest the best way to show your support for the squad is with an official Brazil jersey. You can shop the official Nike Brazil kits in our online store.
If you have enjoyed this article about Nílton Santos head over to our social media pages and tell us, we'd also love to hear who your favourite Brail footballer are from the past as well as the present.