Despite taking a first half lead in their third round UEFA Champions League qualifier vs. Ajax, OGC Nice had to settle for a 1-1 draw following a tired second half.
Lucien Favre, Nice's tactically sharp manager, noted as much in his post match comments, stating: "I think that the equaliser hurt us. Then, we didn't remain as disciplined as we were in the first-half. We left it too open, too many spaces and then we saw the way that they win back the ball and create dangerous opportunities."
He then went onto add that he was still pleased with his team's efforts, which was encouraging to hear, for Nice still produced some excellent football throughout the match. Against a talented Ajax side who love to
possess the ball, the way Favre set up his team in a well organised shape that was accompanied by some nice pressing was essential in making life challenging for their opponents to stamp their usual mark on proceedings.
Forming a mix between a 4-4-2 in their initial pressing phase and a 4-1-4-1 or a 4-5-1 when defending deeper, Favre usually committed two players to press Ajax's centre halves when they looked to pass out from the back. The ball near presser was tasked with using his cover shadow to block the passing lane to Lasse Schone, Ajax's holding midfielder, whereas the ball far one would look to close off the avenue to the other central defender.
Mario Balotelli and Bassem Srarfi largely did a good job here, although
Then in midfield, the Nice midfielders' man orientations to their opponent usually gave them good access to their marker to respond to pressing triggers like when they received with their back to goal, with an open body position or when the pass they were about to inherit was sloppy.
Upon Ajax reaching true central midfield locations, the Eaglets would drop back into a horizontally and vertically compact shape, plus push their defensive line high, in order to compress available spaces for Ajax to find in between lines. Jean Michael Seri and Vincent Koziello notably performed their marking duties on Ajax's two more advanced central midfielders, Hakim Ziyech and Donny van de Beek, in a diligent fashion to limit their time and space to weave their magic constructing and animating Ajax's offensive forays.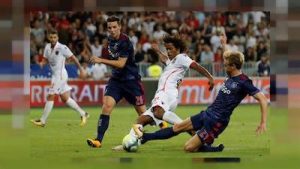 Lastly, the
Nice
wingers would move up to mark their respective full back and the back four would manage the assignments of Marcel Keizer's three man frontline.
As Favre noted, they did fade in the second stanza, but their defensive structures were indeed impressive to begin with and served them well for a good portion of the contest. Facing a tough second leg away from home, Favre will just be hoping his men can produce a similarly strong stopping display, but with some added stamina and longevity attached to it.
Ajax's coach, Keizer, also made a point of crediting Nice's resolute defence when speaking after the draw. "Nice has a good team," he explained. "That could be seen for big parts of this game. In the first half, we didn't have much room to play football. We also knew Nice's game: swoop in and get out. We didn't use that to our advantage enough. We didn't create anything. We needed to do better."
With the tie so evenly poised, a strong rearguard from the French side might just prove crucial towards their chances of progressing into the fourth and final Champions League qualification round. "Everything is possible. We will need to score at least one at their place. From now until then, we will analyse this match, we have a week to prepare for it," Favre mused.
"We didn't let them play, that's what we wanted. But they were very aggressive when we had the ball, it's our speed at those times that we need to work on, to put them in more dangerous situations."
With both sides desperate to get into Europe's most coveted club competition, the second leg on Thursday night looms as an unmissable fixture. You get the feeling, though, if Nice are to progress, their defensive stability will be pivotal in deciding who'll win the fiercely contested encounter.
More by Edward
here
Follow @EdwardStratmann
Follow @soccerboxcom