17th June 2016. By Edward Stratmann.
Ahead of Argentina's mouthwatering Copa America opener with Chile, their manager, Gerardo Martino, was confronted with a crunch decision as to who should replace the injured Lionel Messi.
His answer didn't require much thought, however, with Martino making the easy choice of selecting
gifted Benfica star Nicolas Gaitan to fill in for the Barcelona magician.
"I don't expect him to do anything like Leo," Martino explained.
"I want him to be himself more than ever because he has a very good condition, and he can do it. He is fast, he passes the ball very well, he dribbles very well. He's a very complete player."
Martino's words made perfect sense, for it's impossible to replace the inordinately talented Messi, so to let Gaitan play his own game was clearly the right decision. And it suitably paid off, as the 28-year-old put in a brilliant shift, without the expectations of replicating arguably the world's finest player burdening him.
Gaitan had no issues coping with the occasion, in what was his first major tournament for his country, despite having received 13 previous caps. "I have never been in a competition with
Argentina
, not even in the Under-20s," he said prior to kick off.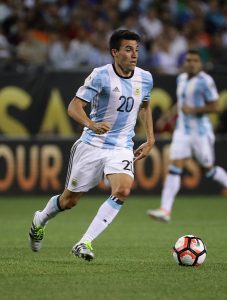 As predicted, Gaitan started the match out on the right wing, and within two minutes he'd already had an impact, powering a superbly timed header into the bar. From that solid starting base, he worked his way into the game nicely, using his delightful passing game, mazy dribbling style and tactical intelligence to go onto play a vital role in his side's stirring 2-1 triumph.
After a promising first 23 minutes, he then switched flanks with Angel Di Maria. While he still influenced the game in a positive manner from the left, there was no question he looked better on the right, where he could cut inside and drive at his opponents using his enviable skillset and wicked acceleration.
Martino importantly recognised this and subsequently transferred him back to the right for the second half.
With Juan Antonio Pizzi's men enjoying the majority of possession, Gaitan was therefore required to undertake a great deal of defensive work. And if there's one aspect of his game that he actually surpasses the great Messi in, it's undoubtedly in this phase of the game. Throughout the duration of his 87 minutes afield, Gaitan's aggression, intensity and unshakable desire to limit the effectiveness of his opposition proved crucial in Argentina being able to blunt Chile's best advances down whichever side he was operating on at the time.
He'd track his opposing fullback, vigorously support his own fullbacks and perform cohesive marking crossovers with them when Chile's wingers would cleverly switch positions in their attempts to confuse Argentina's wide men. A testament to his physical yet cerebral approach to defending and incredible concentration came by way of the fact he did a fine job marking Alexis Sanchez, Jean Beausejour, Eugenio Mena and Mauricio Isla throughout various stages of the fixture.
Coping so manfully with La Roja's high octane, attacking style and being willing to sacrifice himself would've certainly made Martino feel a palpable sense of vindication in his decision to start the languid midfielder.
There could be no doubting Gaitan's immense contribution in all aspects of the game and the balance he
gave to the team, which definitely bodes well for his future playing time in the Copa. Even with Messi's impending return to the starting lineup, Gaitan aptly illustrated that he can be relied upon to step up and fill in whenever necessary. Another solid outing in Argentina's 5-0 demolition of Panama provided further evidence of his value to Martino's men.
For the former Boca Juniors youth prodigy, who used to idolise Zinedine Zidane and Diego Maradona, it's been an overwhelmingly positive major tournament debut, and one that would've ensured many of Europe's finest clubs remain on high alert to secure his services for next season.
Now 28, the timing is right for him to end his fantastic six year relationship with
Benfica
, with a tearful Gaitan admitting he'd probably be leaving the club following their 6-2 Portuguese cup final win over Martino.
At this stage, however, it would seem as though Diego Simeone's masterfully coached Atletico Madrid are
leading the race for the elegant attacker's signature, which would represent a great opportunity for him to work with his fellow countryman. Moreover, Gaitan's strong appetite for work and defensive acuity would make him an excellent fit for Simeone's well regimented tactical plan. Indeed, if Atletico do end up forking up the reported €25 million fee, it'll be money well spent.
All things considered, for the man who's just provided a marvelous 17 assists and eight goals in Benfica's double winning season, his immediate future with Argentina, and at club level, is looking like a hugely exciting one.
He might never be as good as Messi, but Gaitan's unquestionably a hugely accomplished footballer in his own right.
More football articles from Edward
here
.
Follow @EdwardStratmann
Follow @soccerboxcom