At the end of 2014, it looked like Real Madrid was more or less unstoppable in this year's Spanish La Liga division. The football club was at the top of the division standings table, riding high on a record of 16 wins and just two losses. Needless to say, it was a proud time to be a fan in the official Real Madrid jersey.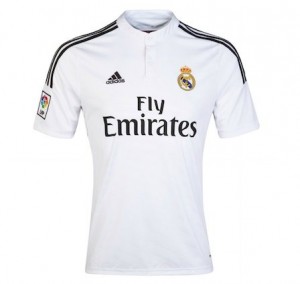 Real's huge run of success in 2014 made it that much more surprising when the club looked rusty and clumsy in the first matches of 2015. Losses in a friendly fixture, in the first La Liga fixture of the year, and in a Copa Del Rey battle with crosstown rivals, Atletico Madrid, had things looking suddenly pretty bleak for the Vikings. Luckily, the squad has bounced back with their first win of 2015, and you can celebrate that fact today, by picking up a brand new Real Madrid home shirt 2014 2015 at Soccer Box!

Soccer Box has a wide range of football gear in stock, whether you are looking for an official Real Madrid jersey or a set of collectible accessories. All of the merchandise we sell is 100% genuine. We carry the same Adidas home shirt or away jersey designs that Viking players will be wearing on the field throughout the spring of 2014. Suffice to say that, if you are a fan of the football team, Soccer Box is the perfect place to shop for their official gear!

A Great End to 2014

At the end of 2014, Real was truly on top of the world. The team hadn't lost a Premier Division match since a September 13th home fixture against Atletico. They had also won major victories against everyone from Barcelona (a 3-1 home triumph) to Deportivo La Coruna (a massive 8-2 away win). And to make things even more positive, the squad had scored a perfect, undefeated run in the UEFA Champions League group stage.

The Vikings closed out the 2014 portion of the La Liga season on December 12th, beating Almeria 4-1. Just days later, they beat Mexican team Cruz Azul to earn a slot in the FIFA Club World Cup finals. And on December 20th, they donned the Real Madrid home shirt 2014 2015 to take on Argentina's San Lorenzo in the title match. The Vikings won 2-0, earning their first ever Club World Cup trophy.

A Rough Start to 2015Â

As you can see, the final weeks of 2014 were jam packed with one huge success after another for Real. Things turned around a bit in a December 30th friendly with Milan, which Madrid lost 2-4. Still, the game had no bearing on any tournament or league standing, and seemed like it would be pretty easy for Real Madrid to take off.

Surprisingly, though, the wearers of the official Real Madrid jersey did let the friendly fixture home loss against Milan get to them. As 2015 opened up, the squad looked uncharacteristically weak, falling 1-2 in a Premier Division game against Valencia. They also lost 2-0 in a Copa Del Rey game against Atletico Madrid-an away match that functioned as the first leg of the tournament's round of 16.

Out of Luck?

These defeats had fans wondering if Real Madrid's 2014 luck had all but run out. After all, last year, the team claimed its 10th Champions League title and came in third in the 2013 2014 La Liga. Furthermore, the fall of 2014 saw star striker Cristiano Ronaldo performing at arguably the highest level of his career-which, for a guy who has repeatedly been hailed as the greatest soccer player of his generation, is saying something.

Luckily, it looks like the Vikings have turned things around. On January 10th, the team members pulled on the Real Madrid home shirt 2014 2015 for the first time this year, and the luck was still there. The squad beat Espanyol 3-0, reaffirming their top spot on the division standings table.

Will the squad hold onto that top slot, or will Barcelona or Atletico challenge? Only time will tell, but you can root for the Vikings today with a brand new official Real Madrid jersey today. Whether you are looking for the Adidas home shirt or the brilliant pink away shirt, you can find it here!