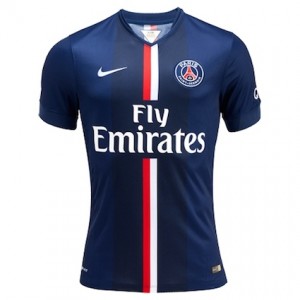 Nearly every football league in the world is at the ready for 2014 2015 season play, and France's Ligue 1 is no exception. While the division might not get quite the same level of attention from soccer fans as, say, the English Premier League or the Spanish La Liga, it certainly has some of the best teams in the sport right now, and arguably the best of those is Paris Saint Germain. Last season, PSG took the Ligue 1 title handily, and this year, the team will be looking for a repeat. Fans can support such an outcome by purchasing a new Paris Saint Germain football kit from Soccer Box!
The new PSG home shirt 2014 2015 is one that fans will love right away, and we have plenty of the shirts in stock at Soccer Box to keep up with demand all season long. The new shirt is a navy Nike kit, with two vertical stripes of color (one red and one white) running down the center. The Paris Saint Germain Eiffel Tower crest and the logo of Fly Emirates the PSG kit sponsor complete what is surely one of the best-looking jerseys in all of soccer.
Strong Prospects
If the Paris Saint Germain football kit is one of the most attractive jerseys in all of soccer, that fact is fitting, as PSG is undoubtedly one of the finest teams. Last season, Paris Saint Germain won the Ligue 1 division by nine points, finishing the year with an impressive record of 27 wins, 8 draws, and only 3 losses. Comparatively, second-place team Monaco only won 23 matches.
This year, PSG has a strong chance of defending its title in Ligue 1. Since the team also won the division in 2012 2013, that would make for quite the hat trick in French football!
So what makes Paris Saint Germain's prospects this year strong other than the back-to-back Ligue 1 titles that the team currently has under its belt? On one hand, PSG had a strong off-season, winning all but one of its friendly matches, and beating Guingamp to win the French Trophee des Champions for the second year in a row. With a summer season like that, it's doubtful that PSG has lost any of the momentum it built up last season.
Summer Transfer News
It doesn't hurt that there will be at least one new star who will be donning the PSG home shirt 2014 2015 for his first season ever at Parc des Princes. The most notable transfer this year for Paris Saint Germain is David Luiz, a talented defender with four strong years under his belt with the Chelsea football club.
Luiz has also been playing for the Brazil national team since 2010, and currently serves as the team's vice captain. In other words, he's an experienced veteran of the soccer sport, and one who will surely make an impression on PSG's forthcoming season.
Other than Luiz, it was a fairly quiet summer transfer season for Paris Saint Germain. There were rumors that the club was hoping to sign Angel Di Maria from Real Madrid before the transfer window closed, and for good reason: playing for Argentina in this summer's World Cup, Di Maria made the shortlist for the Golden Ball.
Unfortunately, Di Maria ended up being a last-minute signing for Manchester United a club left scrambling for new players right up to the closing of the transfer window after a rough season opening and will not be wearing the PSG home shirt 2014 2015 this year.
Staying Strong
Even without Angel Di Maria, though, it is likely that the PSG squad will do just fine throughout the upcoming season. With the core pillars of last seasons team all still in place, and a strong transfer in David Luiz, Paris Saint Germain stands a very good chance at getting that hat-trick Ligue 1 victory!
Cheer for PSG this season by buying a

Paris Saint Germain football kit

from Soccer Box!