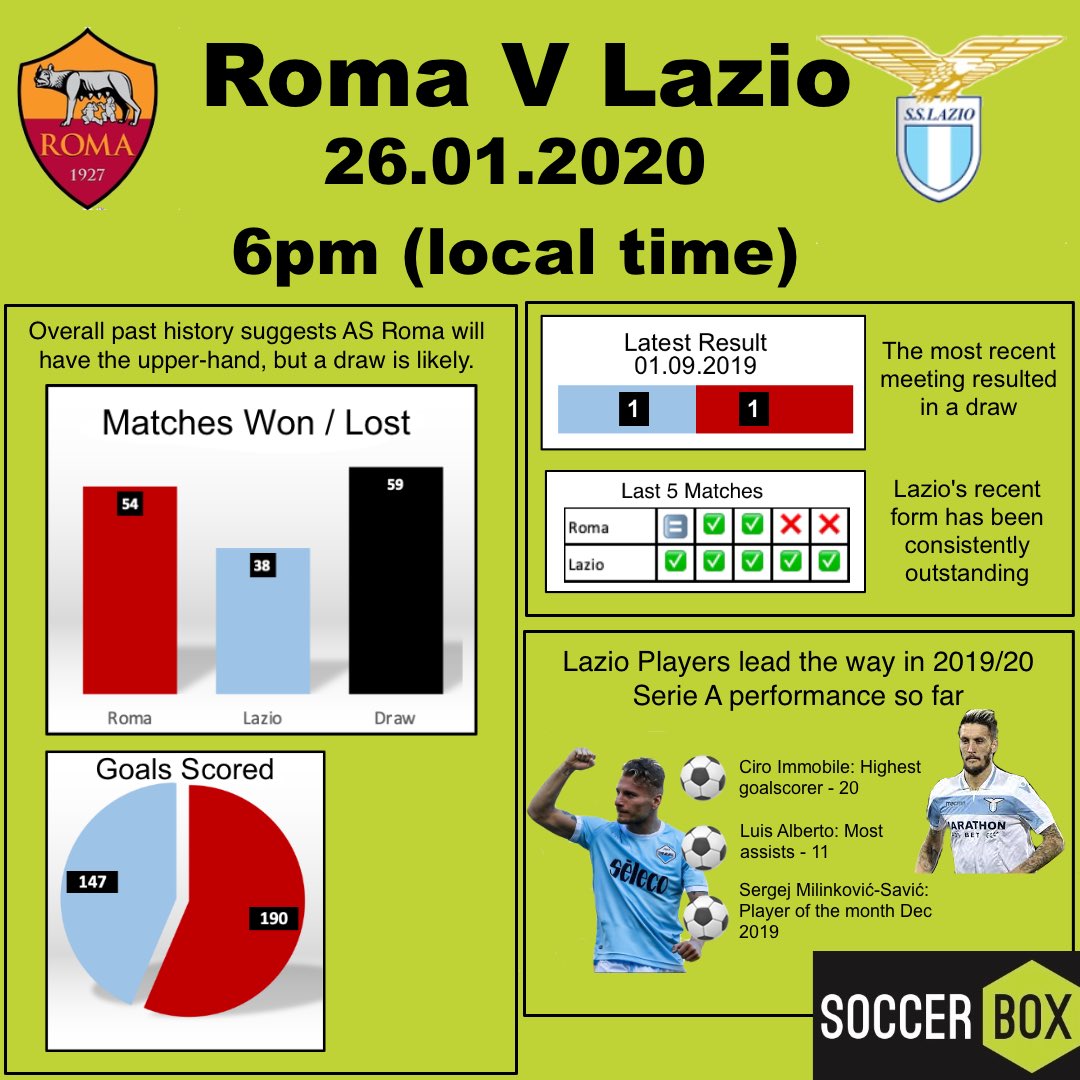 Lazio and Roma are set to go head to head on the 26/01/2020 as part of the 19/20 Serie A tournament. With one match already played, this is their last game together for this season, so how do you think it will go? Will Roma or Lazio be victorious at the end of the match? In preparation for this fixture we have put this article together to discuss each club's performance and try to gauge an insight on which side is likely to be the winner. To find out more, keep on reading!
Lazio's Performance in the Serie A Tournaments
In 2020 Lazio is celebrating their 120th anniversary earlier this month as they were founded on the 9th January 1900. With the heightened anticipation of this anniversary, could we expect spirits to be high for the club and its players as they continue tackling the Serie A tournaments ahead? Their last five Serie A matches for this season have been impressive as they have secured a win for every single one. See the breakdown below.
Latest Five Serie A Matches for 2020:
Lazio (3) V Udinese (0)
Lazio (3) V Juventus (1)
Lazio (2) V Cagliari (1)
Lazio (2) V Brescia (1)
Lazio (1) V Napoli (0)
As we can see from the results above, it is apparent that Lazio have been doing considerably well recently in the Serie A tournament for 2019/20. This breakdown above shows that they have won their last five matches against big names in Italian soccer such as Juventus and Napoli.
Looking further back to the beginning of the season up until now, Lazio has had an outstanding track record which saw them win 13 out of 18 matches with 2 losses against SPAL and Inter Milan, plus three draws with Roma, Atalanta and Bologna. If this is anything to go by, then we expect Lazio to put up a good fight during their upcoming match with Roma.
Lazio have always struggled to maintain a top spot in the Serie A tournament due to stronger sides such as Inter Milan, Juventus and Roma dominating the game. As a result of this we have only seen Lazio lift the trophy on two occasions which are:
But looking at their current ranking in this tournament they are in third place with Juventus and Inter Milan in front of them. So, could this be the season where Lazio has an impressive turn around and decorate the stands with cheering fans donning the Lazio home shirt? And with Roma further down the board to Lazio, is this an indicator on the outcome of the upcoming fixtures?
Roma's Current Performance in the Serie A
AS Roma is a household name in the Serie A tournament as they have always been a strong contender and gained support worldwide. They have a solid track record of making the top 3 at the end of each season, which is sure to make them a fierce team on the pitch. Therefore, we have expected their performance during the 2019/20 Serie A to be on point as usual. However, looking at the breakdown of their past five matches below, their performance has been quite questionable.
Latest Five Serie A Matches for 2020:
Roma (0) V Inter Milan (0)
Roma (3) V SPAL (1)
Roma (4) V Fiorentina (1)
Roma (0) V Torino (2)
Roma (1) V Juventus (2)
Out of their last five matches, Roma has only been able to walk away with a victory at 2 out of the 5 games. They have also drawn once and lost twice, which is sure to make avid supporters concerned about their future in the tournament as they are only ranking at 8th place now as we are over halfway through the games.
Breaking down their results during the 2019/20 Serie A overall, we can see that they have been struggling considerably compared to their rivals in this upcoming fixture. They have won a total of 10 matches but lost four against Atalanta, Parma, Torino and Juventus as well as a draws against Lazio, Inter Milan, Sampdoria, Cagliari and Genoa. With just over half of their matches a success, the progression of Roma could seem bleak considering their triumphant past.
Exploring their historic performance in the Serie A games, we can see that they have lifted the trophy on three occasions, only one more than Lazio. These wins were in the following seasons:
On top of these wins, the club has always maintained a top spot in the Serie A league table. Therefore, why not grab a Roma home shirt and cheer your idols on this season and help given them the motivation they need to secure a top spot in the rankings.
Roma and Lazio's Key Players
Aiding both sides throughout the Serie A 2019/20 are their strongest players who are making a name for themselves, especially in this season. For Lazio we have the following players who have shone during the tournament so far:
Ciro Immobile – Out of his 18 appearances for the club across this season, he is the highest goal scorer of the squad, acquiring 20 goals in total.
Luis Alberto – Currently ranked the highest for his impressive number of assists, Luis Alberto has performed 11 successfully this season.
Sergej Milinkovic-Savic – In December 2019 Sergej was crowned Serie A player of the month. He was also awarded the title of Best Midfielder in the 2018/19 season.
And for Roma the following key players are ones to watch:
Edin Dzeko – Dzeko is the highest scorer for Roma for the 2019/20 season and has netted 7 goals over all for the club.
Lorenzo Pellegrini – Pellegrini has been the most successful player for Roma when it comes to assists after successfully completing 6 this season.
Predicted Results and Historic Fixtures
In this section of the article we are going to look more into the current and historic performance of Lazio and Roma when they go head to head in recent fixtures. By exploring this, we can gauge a better prediction on how the match will go on the 26/01/2020.
5 Historic Serie A Results:
01/09/2019 – Draw 1-1
02/03/2019 – Lazio Win 3-0
29/09/2018 – Roma Win 3-1
15/04/2018 – Draw 0-0
18/11/2017 – Roma Win 2-1
In the breakdown above covering the past five matches between Roma and Lazio in the Serie A games, it is noticeable that they are quite close when head to head. Out of the five matches there were two draws, two wins for Roma and one for Lazio. Looking at the results it is apparent that when head to head the competition is strong as they either draw or win by a large gap.
Season Finishing Places:
2014/15 – Roma 2nd, Lazio 3rd
2015/16 – Roma 3rd, Lazio 8th
2016/17 - Roma 2nd, Lazio 5th
2017/18 – Roma 3rd, Lazio 5th
2018/19 – Roma 6th, Lazio 8th
In recent years we have seen the gap in performance between Lazio and Roma widen. With Roma securing the top 3 spots consistently except for last season and Lazio narrowly missing out on the top 5. If this is any indicator to go by, then we expect Roma to have an overall more successful season in the Serie A compared to Lazio, therefore a strong result during this fixture is likely to go in favor of Roma.
What Do You Predict the Outcome of the Roma V Lazio Match to Be?
Throughout this post we have dissected the performance of both Roma and Lazio ahead of their Serie A match together on the 26th January. We have given you ample information about the club's progress and how they might fare during the game, but do you agree with our predictions or do you have analysis and ideas of your own? Let us know over on our social media pages. And don't forget that you can purchase your Lazio football shirt and Roma soccer jersey ahead of the games and showcase your support for your favourite side over at Soccer Box.