With 17 games played so far, France's 2014 2015 Ligue 1 season is just two weeks shy of its halfway point. The fact that so much of the season is gone already only makes it that much more impressive that Paris Saint Germain still hasn't lost a single match all autumn. Could the club be on the way toward the coveted undefeated season? Only time will tell, but if that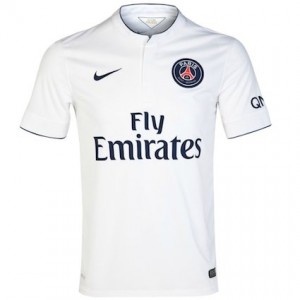 possibility is on the table, you will want to make sure that you have a PSG football kit to mark the occasion!
You can find official football merchandise for Paris Saint Germain available at the Soccer Box online store. If you are looking for a soccer shirt for yourself, you will love the 2014 2015 PSG Nike home kit. A beautiful red, white, and blue shirt with a great aesthetic design, the adult home kit is also the perfect gift for any big Ligue 1 football fan. We also have the Paris Saint Germain boys away shirt 2014 2015, if you are looking for a gift for your son for the holidays.
This boys away kit is a perfect replica of the away shirt that Parisian footballers will be wearing this year, right down to the team crest and the Fly Emirates sponsor logo! Trust us when we say that the soccer-loving boys in your life would love this PSG shirt as a holiday gift!
The Unbeaten Run
So far in the 2014 2015 Ligue 1, PSG has won 10 soccer games and drawn seven. Obviously, fans would hope for a better win-draw ratio in the average season. After all, Paris Saint Germain isn't even leading the division at the moment: Marseille is at the top of the soccer league, with 12 wins, two draws, and three losses.
Still, even if the wearers of the PSG football kit don't win the Ligue 1 trophy this year, an unbeaten 38-game run would still make 2014 2015 a landmark year for the club. It's incredibly rare for an association football team, regardless of country or league, to achieve a season without losing a single match.
Arsenal managed an undefeated season in 2003 2004 in the English Premier League, and Juventus did it in 2011 2012 in the Italian Serie A. Porto, meanwhile, almost did it three times in a row in the Portugal Premeira Liga: the club managed unbeaten runs in both 2011 and 2013, and only lost a single game in 2012.
Clearly, Paris Saint Germain would join a very exclusive club this year if they can keep the unbeaten thing going. If PSG can manage an undefeated run
and
a victory in Ligue 1, meanwhile, that would make the Paris Saint Germain boys away shirt 2014 2015 a collector's item. It would be PSG's third consecutive soccer league trophy, and it would be marked with a show of consistency not often seen in football.
International Play
The fact that PSG has maintained an unbeaten streak for this long in the 2014 2015 Ligue 1 is impressive enough as is. The feat is made even more stunning when you look at the fact that the club's undefeated streak isn't just domestic, either, but also international.
That's right: Paris Saint Germain hasn't lost a single game, of any kind, since mid-July. That includes club friendlies, UEFA Champions League group stage fixture, and a Super Cup game-in addition to Ligue 1 matches. No other team in football right now can compete with that level of consistency. Clearly, it's a proud time to wear the PSG football kit.
Picking up Steam 
Early on in the 2014 2015 Ligue 1, the Paris Saint Germain players were drawing most of their matches. They hit a stride in mid-October, though, and have won six of their past seven domestic fixtures-a sign that the club could be ready to re-take the top slot in France's best football league.
Those wins have included significant home victories (against top-five clubs, Marseille and Bordeaux), as well as crowd-pleasing away victories (over the likes of Metz, Lens, and Lorient). The kids in the Paris Saint Germain boys away shirt 2014 2015 have been understandably giddy about the streak.
Pick up a
PSG football kit
today, and get yourself involved in what could be a historic run for the French soccer team. At Soccer Box, we have an array of merchandise for the club. If you are shopping for your kids, check out our boys home jersey or boys away kit. Adult sizes are, of course, also available.