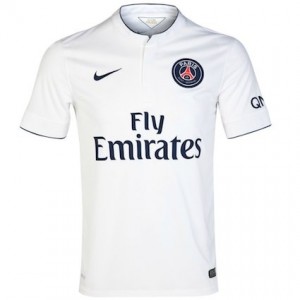 Is Paris Saint Germain one of the best teams in professional soccer right now? A stunning streak of undefeated play, both in the French Ligue 1 and the UEFA Champions League, has many fans pondering that question. That also makes it the perfect time to invest in a PSG football shirt 2014 from Soccer Box. Paris Saint Germain is clearly headed for a successful year of football, and you'll want to be a part of it!
Soccer Box has a full range of PSG football gear to keep up with the popularity of this highly successful club. From this year's PSG home shirt to the Paris Saint Germain away jersey 2014 2015, there is no piece of PSG clothing that we do not have readily available! The Soccer Box PSG store even has tracksuits, soccer shorts, and older uniforms to choose from.
Ligue 1 Success
There are numerous metrics that indicate Paris Saint Germain can be considered one of the best teams in football right now. One of them is the team's recent winning streak in the French Ligue 1 division. After nearly 20 years without a national championship title, PSG won the Ligue 1 trophy two years ago, during the 2012 2013 season.
A second consecutive victory during the 2013 2014 Ligue 1 proved that PSG was not just a team riding high on a fluke win, but potentially a football dynasty in the making. And this season, as Paris Saint Germain aims for a third consecutive victory in Ligue 1, it's clear that the dynasty is well intact.
Undefeated
That brings us to the other metric by which Paris Saint Germain can be considered one of the best teams in soccer right now: the team's current streak of undefeated play.
Sure, PSG is not currently situated at the top of the French Ligue 1 table. You could buy jerseys for Marseille, Lille, or Bordeaux, and you would be supporting teams that are higher up in the current Ligue 1 standings. However, if you opt for the Paris Saint Germain away jersey 2014 2015, then you are supporting something even more impressive.
While Marseille, Lille, and Bordeaux have all won more Ligue 1 matches this year than PSG, they have also all
lost
matches. PSG is the only team in France's top division that has yet to lose a match this season, and while the club's current season record of 3 wins and 5 draws isn't quite perfect, there's something to be said for a team that literally cannot be beaten.
Champions League Success
Indeed, the Paris Saint Germain away jersey 2014 2015 doesn't just represent an undefeated soccer club in Ligue 1, but in the UEFA Champions League as well.
So far this season, PSG has played two different Champions League matches. The first, played against Dutch champions Ajax, ended in a 1-1 draw. The second, however-a fixture against FC Barcelona-finished 3-2 in favor of PSG.
The win against Barcelona is notable not only because it extends PSG's undefeated streak-the team has not lost a competitive match now since the beginning of May-but also because Barcelona is one of those clubs that football fans would list among the "best in the world."
Barcelona's scoring dynamo of Lionel Messi and Neymar is something that not a lot of other football clubs can compete against. However, while both Messi and Neymar scored goals in the Champions League match with PSG, Paris still triumphed.
What's Next?
Goals from David Luiz, Marco Verratti, and Blaise Matuidi did the PSG football shirt 2014 proud and paved the way for a win over Barcelona. The victory begs what's next for PSG, since it shows beyond a shadow of a doubt that the team can best some of the most competitive forces in football.
The win also begs the question of why PSG couldn't win Ligue 1 matches against the like of Lyon, Evian, Toulouse, and Rennes, all of which are statistically weaker teams. Is the club merely biding its time until the late season to start winning matches?
Time will tell on that point, but there is little doubt that PSG is one of the most consistent teams going right now. There's no telling how long this undefeated streak can last, but you can cheer for another week or another month by purchasing a new
PSG football shirt 2014
at Soccer Box!