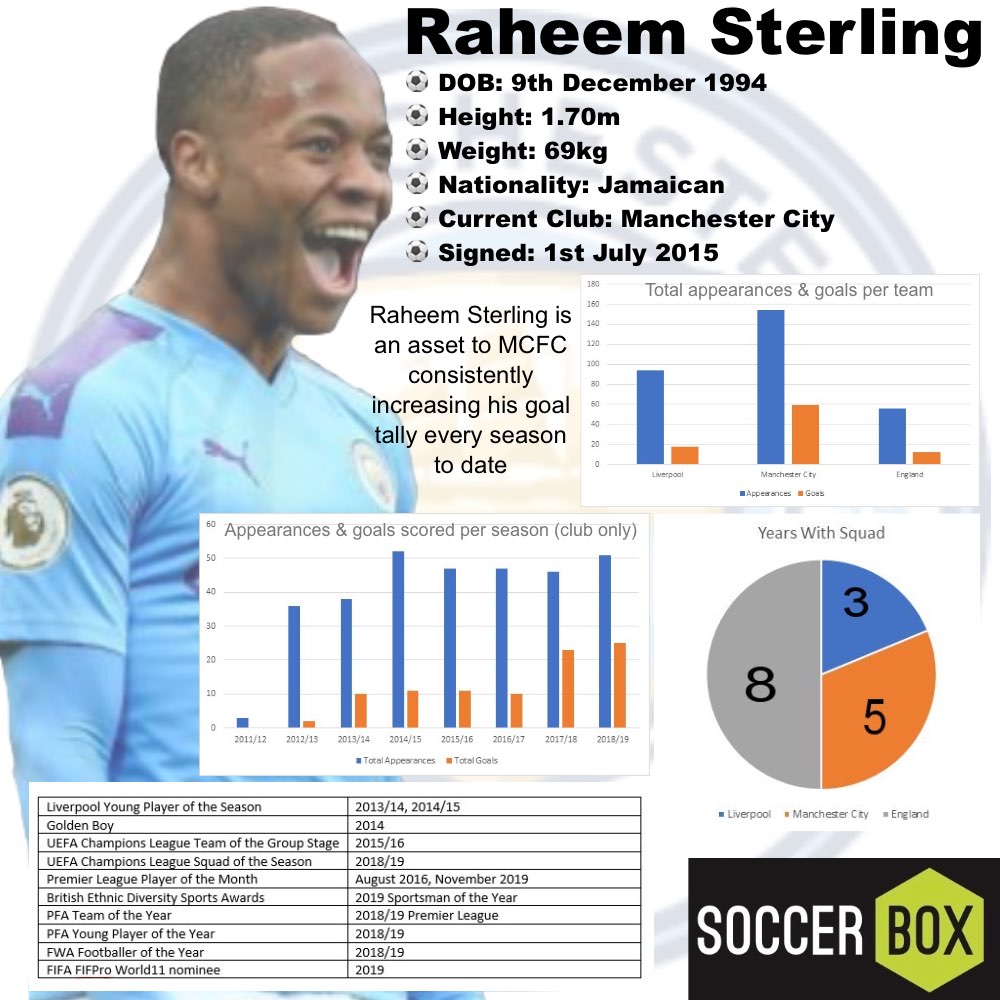 In this blog post we are going to look back across the football career of Raheem Sterling and how he transitions from his youth to senior contracts in both the Premier League and internationally. Covering all aspects of his soccer years from performance, transfers and goals, you can find out all about this signature Manchester City player throughout this article.
Below are the basics of Raheem Sterling's personal and player profile, if you want to find out more about his football journey, then keep on reading:
DOB – 9th December 1994
Height – 1.70m
Weight – 69kg
Nationality – Jamaican
Signed – 1st July 2015
Position – Forward
Sterling's Youth Soccer Career
Born on the 9th December 1994, Sterling grew up in Jamaica before moving to London when he was only 5 years old. When he emigrated to England, he enrolled in the Copland School in Wembley and also began his soccer career that same year. In 1999 he joined the local youth team called Alpha & Omega where he trained and mastered his soccer skills for four years. After four years with his local youth team he signed with Queens Park Rangers.
He trained with the Queens Park Rangers youth side for seven years before Liverpool expressed an interest in purchasing him. The initial fee for Sterling's transfer as a youth was £600,000 with the possibility of it rising to £5m depending on how many appearances he made for the first team.
Raheem played and trained with the Liverpool youth team for only two years before making his senior debut as a substitute in a match against Wigan Athletic. Sterling was only 17 years old when he made his senior debut, which made him the third youngest player to play for the club in the youth to senior transition process.
Alpha & Omega – 1999 to 2003
Queens Park Rangers – 2003 to 2010
Liverpool – 2010 to 2012
Sterling's Senior Football Career
Sterling made his first senior debut with Liverpool in March 2012 and again two more times as a substitute. As well as this, he also made his first European appearance the same year in the August. This debut saw him come on as a substitute during the UEFA Europa League qualifying match against Gomel. A week after his first European debut, Sterling scored his first senior goal for Liverpool against Bayern Leverkusen in a friendly.
As he was progressing at an impressive rate, he was on the starting team for the Europa League match at the end of August against Herts. Sterling scored his first ever competitive goal for Liverpool in the 29th minute of a match against Reading which was the only goal acquired by Liverpool during the game and secured them a 1-0 win. As a result of this, he was named the second youngest player to score in a competitive fixture for Liverpool.
At the end of his first year with the Liverpool senior team, Sterling signed a contract which extended his stay with Liverpool. He continued throughout 2013/14 securing numerous goals for Liverpool, and on the 18th April 2014, he was shortlisted for the PFA Young Player of the Year award and was named Liverpool Chartered Player of the Month for April. As well as this, at the end of the 13/14 season he was also awarded Liverpool's Young Player of the Year too.
During the beginning of the 14/15 season Sterling scored a goal against Southampton which helped to secure their 2-1 win. He also then went on to scoring the opening goal against Spurs and was named man of the match as well as the Liverpool Player of the Month for August. His first ever Champions League debut took place on the 16th September 2014 against Ludogorets Razgrad. He also went on to make his 100th appearance for Liverpool and scored during the League Cup quarterfinal which in turn earned him the 2014 Golden Boy award.
Sterling also went on to score the only goal against Chelsea in the League Cup semi-final as well as netting the opening goal in both the West Ham United and Newcastle United matches plus the equalizer against Bolton Wanderers and the second goal against Southampton. This performance earned him the Young Player of the Season award for the second consecutive year in a row. Unfortunately, fans did not support this award as Sterling rejected the new contract with Liverpool. Despite this, he was again shortlisted for the PFA Young Player of the Year award for a second year running.
In February 2015 Liverpool proposed a new contract worth £100,000 a week which Sterling turned down. And by June he had received interest from Manchester City who had bid £30m for Raheem, which was rejected by Liverpool. They also submitted a second bid of £40m which was rejected again as Liverpool put the value on Sterling at £50m. But by July 2015 an agreement was settled with Manchester City which saw Raheem Sterling transfer clubs for an initial £44m with a further potential £5m in add-ons.
On the 14th July 2015 Sterling signed a five-year deal with Manchester City and made his first debut against West Bromwich Albion and only nineteen days after his debut, he scored his first competitive goal for City against Watford. Soon after this, he scored his first career hat-trick against Bournemouth on the 17th October 2015. Less than a month after this he made his first Champions League appearance for City where he scored one of the three goals against Sevilla. One of his other impressive achievements was in the match against Borussia Monchengladbach where he scored twice in the last ten minutes of the match which helped transform the result from a 1-2 loss to a 4-2 win.
Since signing for Manchester City, Raheem Sterling has continued to impress supporters with his impressive goal scoring which included several hat-tricks. Because of this, he had also racked up titles such as PFA Premier League Team of the Year, PFA Young Player of the Year and FWW Footballer of the Year for the 2018/19 season.
Liverpool – 2012 to 2015
Manchester City -2015 to Present
Playing for England
Sterling was able to start playing for England in 2009 after FIFA agreed to the Home Nations Agreement which saw players eligible to play for this national team if they had been educated in the country for five years or more. As Sterling emigrated at five years old, he was eligible for this rule amendment which saw him able to play for England rather than his birthplace which was Jamaica. Sterling has previously said the following comment regarding his national representation "When it comes to that decision, that is when I will decide, but if Jamaica calls for me, why not?".
During his youth career with the England national team he played in the U16s, U17s, U19s and U21s. Throughout this time he was called up to play for England during the 2011 U-17 World Cup where he scored against Rwanda and Argentina. In 2012 he received his call up to the senior England squad prior to the 2014 World Cup qualifiers. During the game against Ukraine, Sterling remain on the bench as an unused substitute but received a call up to the U21 squad later that year where he was substituted against Serbia. His first U21 goal was against Scotland.
His first senior debut for England took place during a friendly match against Sweden in 2012. He was again used in a friendly against Denmark where he was named man of the match. After this he went on to play during the 2014 FIFA World Cup and the UEFA Euro 2016 qualifiers. Due to his contribution to the team's wins during the qualifiers, he was chosen as part of the 23-man squad for the 2016 tournament as well as the 2018 FIFA World Cup.
Recently Sterling has appeared in the UEFA Nations League group match where he scored twice against Spain which helped secure their 3-2 win. As well as this, he scored his first hat-trick for England against Czech Republic during the UEFA Euro 2020 qualifier. However, since then it is reported that he was dropped from the England team after a clash with Joe Gomez who is his teammate on an international level but a club rival.
2009 to 2010 – England U16s
2010 to 2011 – England U17s
2012 – England U19s
2012 to 2013 – England U21s
2012 to Present - England
Achievements and Performance
In this portion of the article we are going to investigate the performance of Raheem Sterling from his total goals scored per appearances to his individual and club awards. To start off with we are going to look into the total goals he has scored for both the Premier League teams and the national team he has played for:
Liverpool – 94 appearances, 18 goals
Manchester City – 154 appearances, 59 goals
England – 56 appearances, 12 goals
Going by the stats above, we can see that his most successful stint was with Manchester City as he scored a total of 59 goals at the time of writing, compared to his time with Liverpool. However, he has had more opportunities on the pitch with City compared to Liverpool and England.
Next, we are going to look at the different types of individual awards Raheem Sterling has achieved across his senior football career:
Liverpool Young Player of the Season – 2013/14, 2014/15
Golden Boy – 2014
UEFA Champions League Team of the Group Stage – 2015/16
UEFA Champions League Squad of the Season – 2018/19
Premier League Player of the Month – August 2016, November 2019
British Ethnic Diversity Sports Awards – 2019 Sportsman of the Year
PFA Team of the Year – 2018/19 Premier League
PFA Young Player of the Year – 2018/19
FWA Footballer of the Year – 2018/19
FIFA FIFPro World11 nominee – 2019
He has also contributed to the following squad wins over the years:
Premier League (Manchester City) – 2017/18, 2018/19
FA Cup (Manchester City) – 2018/19
Football League/EFL Cup (Manchester City) – 2015/16, 2018/19
FA Community Shield (Manchester City) – 2019
UEFA Nations League Third Place (England) – 2018/19
Is Raheem Sterling an Asset to Manchester City?
In this blog post we have covered all aspects of Raheem Sterling's football career from his youth to senior positions. We also have seen how he has progressed over the years by breaking down his performance both in the Premier League with Manchester City and Liverpool as well as international with England. But now we want to know what you think. Do you think Raheem Sterling is an effective forward? Let us know over on our social media pages. And don't forget that you can also purchase the coordinating Manchester City shirts and England jerseys as worn by Sterling, over on our online store – Soccer Box.
This article was exclusively written for Soccer Box by Loren Astbury