Some of the football leagues throughout Europe, from England's Premier League to Spain's La Liga, had released their jerseys for next season by the time all play on this one was winding down. The logic behind such timing makes sense, as it gives fans chance to mourn the ending of one season while already preparing for the next. However, the Real Madrid home kit 2014 stayed strangely off shelves until later, with the announcement coming through to soccer retailers only after seasonal play had all been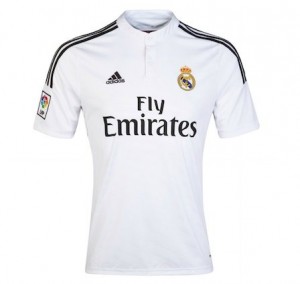 completed. It was as if the Real Madrid football club was waiting for something.

By the time the Real Madrid home jersey 2014 2015 made its way to Soccer Box (find it on our web store today!), Real Madrid had successfully completed its campaign to claim the UEFA Champions League for a record 10th time. Once the team had successfully hit that benchmark beating crosstown rivals Atletico Madrid to take the trophy only then did the Real Madrid jerseys for next season surface.

Real Madrid's move was likely a marketing one: get everyone talking about Real Madrid football club by collecting Europe's biggest trophy, and then ignite talk about next year's season and deliver a product that fans want only days later. The new Real Madrid home kit 2014 is nearly identical to last season's jersey, still manufactured by Adidas, still with Fly Emirates as a prime sponsor, and still with the same classic white and black color scheme (with splashes of gold thrown in by the team crest). The message is simple: if the design served the team well during its 2013 2014 Champions League campaign, it will serve next year's team just as well.

Spreading the Wealth

Perhaps the most interesting thing about this past season is that, because of the Champions League victory, it will likely go down in history as one of the best years of Real Madrid soccer in recent memory. However, despite this fact, Real Madrid actually only finished third in La Liga, with a record of 27 wins, 6 draws, and 5 losses (second placers Barcelona had an identical record, but edged Real Madrid by a single point in goal difference).

Comparatively, Real Madrid's record of 32-4-2 during the 2011 2012 season (when Real Madrid last won La Liga, claiming a 32nd title in the division) made for a markedly "better" season. In fact, in any other year, this season's third place finish and loss to La Liga victors, Atletico Madrid might have come as a slight disappointment to fans.

However, thanks to a bit of spreading of the wealth, the Real Madrid home jersey 2014 2015 is now surrounded with more hype and anticipation than has been accorded to the Real Madrid football club in quite some time. Atletico may have claimed La Liga, but Real Madrid got a chance to share a rematch with the team in the Champions League final, and now each team has a significant trophy to remember the 2013 2014 season by. Not a bad year for Madrid football!

The Champions League Final

Given the skill of these two Madrid teams, it's hardly surprising that the Champions League final became a real battle between the two. For the bulk of the game's runtime, it looked as if Real Madrid would be denied a 10th Champions League win once again. Atletico took the lead about half an hour into the game, and all hope appeared lost until defender Sergio Ramos scored an equalizer and forced the game into extra time.

It was in extra time where Real Madrid really shined. Three goals  one by forward Cristiano Ronaldo, one by winger Gareth Bale, and one by left back Marcelo Vieria brought the score to 4-1 and crowned Real Madrid as 10-time Champions League victors. It was the team's first win of the key UEFA trophy since 2002. Now, fans are already eager for another season with their favorite Spanish team, and the Real Madrid home jersey 2014 2015 is only goosing the anticipation further.

So stop by Soccer Box today and pick up a Real Madrid home kit for yourself. We have print options for three of the four team heroes that helped secure the Champions League victory Sergio Ramos, Gareth Bale, and Cristiano Ronaldo so you can show your pride for this monumental 10th trophy.