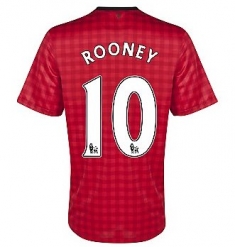 Wayne Rooney started his career playing for Everton where he enjoyed years of success. Rooney had decided he wanted to take on a new challenge and joined Manchester United in 2004 for 25.6 million pound. He was given the number 8 Manchester United shirt by manager Sir Alex Ferguson and made his debut in the Champion's League on the 28th September. Manchester United played Fenerbahce and won 6-2. Three of these came from Rooney making him the youngest player ever to score a hat trick in the Champion's League. Rooney's first season with United could have been better though, they came third in the league missing out on the title, however they did do better in their cup competitions. Wayne Rooney really started to make a name for him self becoming United's best goalscorer for that season, for his achievement and skill he was handed the PFA Young Player Of The Year award. In 2007,  Rooney picked up an injury when he fractured his ankle, which had previously happened in 2005, almost a year after he first put his number 8 Manchester United shirt on. Wayne Rooney continued to play great football until October 2010 when stories about a possible exit from Manchester United appeared all over the internet and in the press.

The story was that Rooney had left Sir Alex Ferguson shell-shocked when he announced that he would like to leave the club, no one expected it especially the manager. Rooney backed his words up by suggesting fears about the strength of the team and their ability to bring in world class players. After that Rooney was left on the bench during their Champion's League defeat against Real Madrid and a bit shell-shocked him self, the star player that everybody wanted is now sitting on the bench during a very important game. Too add insult to injury, what Rooney admitted he craved came true, in the 12-13 season Manchester United had landed Arsenal's star striker Robin Van Persie. Rooney did not leave in 2010 and has continued to play for United, not playing anywhere near as many games as usual. Rooney played a few full matches but was then left out of the Premier League match against Fulham, while Robin Van Persie made his debut. In the 70th minute Rooney did come on in place of Kagawa but was shortly left in pain when he suffered a severe gash on his leg. He was then out for a further four weeks and was made to take time away from the game and his Manchester United shirt.

Other strikers such as Danny Welbeck and Van Persie were used instead of Rooney and have become loved by the United fans. Rooney seems to have become less popular, with more fans preferring to talk about strikers like Robin Van Persie. Recently more talks have resurfaced again about a possible exit for Wayne Rooney from United, he is currently on a 250,000 a week contract but Sir Alex Ferguson seems as if he would not completely rule out accepting a deal on the striker completely if they received a good price. Teams such as Paris Saint Germain have been linked recently, Rooney and Sir Alex Ferguson will have to make this decision, let's just hope whatever Rooney decides to do he can try and gain back first team football week in, week out and become that star again that was found when he played for Everton as a young boy. It will be interesting to see if England manager Roy Hodgson picks Rooney for the starting 11 in their next match now he is not making as many regular appearances. We are currently waiting on the Player of the Year to be announced, however Rooney is not a contender this year but the likes of his team mates Robin Van Persie and Carrick are.

Do you think Wayne Rooney will stay at Manchester United? How can he get past the likes of Van persie and Welbeck and return back in to the starting line up for United?

Emily Millington writes exclusive articles for Soccer Box, if you would like your own Manchester United shirt then check out this Manchester United shop. There are some fantastic products available for purchase.