Internazionale left San Siro with the bragging rights on Sunday, September 13th, beating their local rivals (and fellow stadium tenants) AC Milan 1-0 in a high-profile San Siro derby 2015 match. The two Milan football clubs may not be what they once were nowadays. They finished eighth (Inter) and 10th (AC) respectively in the 2014 2015 Serie A. That's a far cry from the champion (AC) and runner-up (Inter) slots that they had occupied just four years earlier. Still, even with Milan's soccer teams having hit rough patches at more or less the same time, the derby games between them remain fierce, high-profile rivalry battles. Sunday's match was no exception.

May the Better Team Win

Last season, it was nearly impossible to tell which Milan squad was the better soccer team. Both of their regular season derbies ended in draws; Internazionale managed a higher finish in the Serie A; AC Milan beat Inter 1-0 in an International Champions Cup match over the summer. The battle between these two clubs over the past year or so has been like a chess match that can only end in a stalemate.

Internazionale tilted the advantage in their favor on Saturday, grabbing their first win against AC's Red and Blacks since December of 2013. Though both clubs were playing on their home pitch-as is customary for these derbies-Inter was technically the "home" team. And after donning the Inter Milan home jersey 2015 2016, the Black and Blues charged to a win that-temporarily at least-puts them at the top of the Serie A standings table.

While Inter may have won the match, though, it's still up for debate among Milan football fans over which club actually fielded the better team. Internazionale only actually netted one goal-a 58-minute beauty from Colombian midfielder Fredy Guarin-and AC's Red and Blacks actually had the edge in terms of possession (52 percent).

Balotelli (Nearly) Saves the Day

Things could have very easily gone differently, too, thanks mostly to AC Milan's Mario Balotelli. AC manager Sinisa Mihajlovic originally seemed hesitant to put Mario-who was recently loaned back to AC Milan from Liverpool-on the field at all. Mihajlovic recently made comments saying that Balotelli was out of shape and might not play much for a while as a result.

When Mario came on in the 62nd minute, though, he gave the Red and Blacks the shot in the arm they needed to get back in the game. Right away, he created a scoring opportunity, with a beautiful free kick generating a dangerous attack for the AC soccer squad. Later, he nearly scored his own goal to equalize the match-though his shot ultimately hit the post. Had AC Milan had slightly better luck-or had Mihajlovic just put Balotelli in the game a bit earlier-we might have been having a very different conversation about this particular football match.

Internazionale: Enjoying the View from the Top

While it's fun to imagine hypotheticals concerning Mario Balotelli's impressive performance in Sunday's
match, Internazionale ultimately won bragging rights as the "better team" in Milan-at least for now. The win also earned them the top spot on the Serie A standings table-a view they haven't experienced much in recent years.

Indeed, the Black and Blues have now won their first three matches of the 2015 2016 Serie A season. They beat Atalanta and Carpi in their first two weeks, and their derby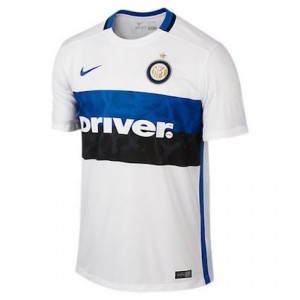 victory on Sunday brought their point total to nine and their goal difference to +3. They are the only soccer club on the table to have won all three of their games so far.

As for Juventus, the defending Serie A champs and the perceived 2015 2016 frontrunners, they are currently in serious crisis. Juve lost their first two matches (against Udinese and Roma) and drew their third (with Chievo) to earn just a single point in the first three weeks of competition.

Could Inter Milan reap the benefits of Juve's downfall and make a triumphant return to the top of the Serie A table? Only time will tell, but you can root for the football club today with a brand new Inter Milan jersey 2015 2016 from Soccer Box!