The Senegal national football team has only ever appeared in a single FIFA World Cup tournament. The 2002 campaign that brought the Senegal football shirt to a quarterfinal berth in the World Cup was a miraculous one, the kind of debutant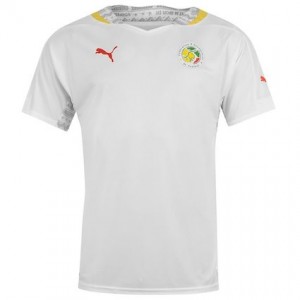 performance that is so rare to see in an event as big and competitive as the World Cup. Unfortunately, Senegal has not returned to the World Cup since, including with this year's event in Brazil. However, the team is still looking up and forward, this time toward the qualification rounds for next year's Africa Cup of Nations.
The Senegal home jersey 2014 - 2015, now available for purchase from the Soccer Box online store, is likely much like the shirt that the Senegal team would have worn had they qualified for the World Cup this summer. Instead, though, the jersey will be featured in the qualifying rounds for the Africa Cup of Nations. It's a beautifully designed and well made soccer shirt from Puma, a classic white jersey with splashes of red, yellow, and green to best honor the colors of the Senegal soccer crest.
Looking Back at World Cup Qualification
Senegal missed out on 2014 World Cup competition thanks to a single loss. After winning their group stage draw in the Confederation of African Football division - thanks to an undefeated run against Uganda, Angola, and Liberia - the Senegal team faced a two-leg draw against the Ivory Coast.
A loss of 3-1 in the first leg of the Ivory Coast match-up put the Senegal football shirt at a difficult deficit in World Cup qualification. The team would have needed its own 3-1 victory in the second leg to hold on to qualification hopes, but a 1-1 draw kept the aggregate score in favor of the Ivory Coast, effectively eliminating Senegal from contention.
Eyeing the Cup of Nations
With memories of the missed World Cup qualification still fresh, fans are merely hoping that the Senegal home jersey 2014 - 2015 brings about a bit more luck.
The luck held within this year's Senegal football shirt, of course, remains unproven, but fans will get to see a test of Senegal's mettle starting in September of this year. The team has been drawn into Group G for Africa Cup of Nations Qualification, which will put them up against soccer squads from Tunisia and Egypt. The fourth slot for the group stage has not yet been filled, but will be occupied by either Botswana or Guinea-Bissau.
Botswana and Guinea-Bissau are competing in a two-leg playoff for the final slot in Group G. Soccer fans will know by early August which of the two nations will be taking on Senegal, Tunisia, and Egypt. In any case, the first appearance of the Senegal home jersey 2014 - 2015 in this year's Africa Cup of Nations qualifiers will take place on September 5 or 6, and will be played against Egypt.
Assessing Senegal's Qualification Chances
So does Senegal have a shot at qualifying for the 2015 Africa Cup of Nations? That's difficult to say, due to the inconsistency of their competitors. For instance, Egypt is an opponent to watch, with seven previous championship titles at the Cup of Nations - the most recent of which came consecutively in 2006, 2008, and 2010. Then again, Egypt failed to qualify at all for the cup in either 2012 or 2013, meaning that the team may be vulnerable.
Tunisia, meanwhile, only has one Cup of Nations championship title, but the country also hasn't missed qualification for the tournament since 1992. The team's less flashy history would indicate that Tunisia is more vulnerable than Egypt, but Tunisia has also been more consistent, which posits the team as a threat to Senegal.
Finally, Guinea-Bissau - due to a number of bans, withdrawals, and missed qualifications - has never competed in an Africa Cup of Nations, while Botswana only qualified once, in 2012. Regardless of which team makes it into Group G, they will likely be Senegal's easiest opponent.
Do you think Senegal has what it takes to make it to the Cup of Nations in 2015? We will find out from this fall's qualifiers, but for now, you can grab a
Senegal football shirt
from Soccer Box to cheer the team on.