The Spain national team has dominated World and European football for the last few years. They rose to prominence in 2008 as UEFA European Champions. Since then they have added a 2nd European Champions trophy and FIFA World Cup to their collection. The Spain shirts have become universally popular around the globe. However, can the Spanish squad retain their dominance and win the 2014 World Cup?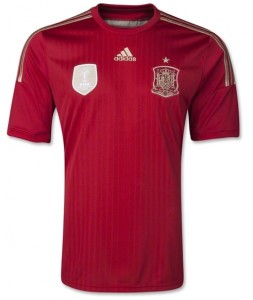 This summer is the 20th hosting of the world's most respected football tournament the FIFA World Cup. To make this year's tournament even more special it is being held in Brazil. Brazil is famed for its exuberance and vitality, as well as their passionate love of football. The home nation is one of the best teams in the world and is sure to put on a show worth watching. You can get your Spain shirts and other World Cup kits at Soccer Box now.

There will be 32 teams competing in the World Cup finals. As each team is vying for superiority so are the main kit manufacturers Nike and Adidas. Adidas is the manufacturer of the popular Spain football kits. After a 30-year partnership they cemented their relationship further by announcing an extension to their deal until at least 2018. They have recently launched the new Spain 2014 FIFA World Cup home football shirt in preparation for this summers campaign.

The Spain 2014 FIFA World Cup home football shirt features a brand new design. This all red kit is a step away from the traditional team colors that usually include blue shorts. Instead of yellow, the badges, logos and trim have been designed in a gold color. This is a stunning shirt, deserving to be worn by the current holders of the World Cup. A single star features above the crest; can they add another in Brasil this summer?

The 1st star was added to the Spain shirts after they lifted the World Cup in South Africa in 2010. Despite their European success they were surprise winners, their performance was solid but not remarkable. The final wasn't an easy win against the Netherlands. The match went to extra time, and more yellow cards were awarded than in any other World Cup final. Iniesta scored the winning goal for Spain in the 116th minute sparing the final from a much-dreaded penalty shoot out.

This year's World Cup is shaping up to be the unmissable sporting event of the year. No European football team has ever lifted the trophy on South American soil. Spain as the team ranked as FIFA number 1, and current holders are not the favorite choice. Home nation Brazil, and Argentina are the favorites. Germany is 3rd with Spain still in contention as 4th choice. Will you choose the Spain shirts or one of the other top choice shirts?

The current World Cup holders are not granted automatic qualification in order to defend their title. Spain had to qualify through the European qualification process. They were in Group I and had to win the group in order to secure direct qualification. Â Also in Group I was France, Finland, Georgia and Belarus. France was their toughest opponent but the current champions secured their place in the finals winning the group with 20 points.

After guaranteeing their place in the finals the brand new Spain 2014 FIFA World Cup home football shirt was launched. Spain has been drawn into Group B, and this new shirt will be used in their 1st game. Group B is an interesting draw featuring both of last years finalists Spain and Netherlands. For both teams their 1st clash will be a repeat of last year's final, which is sure to be an action packed match that both teams are determined to win.

The other teams in Group B are Chile and Australia. The top 2 teams from each group will continue to the next stage. Spain and Netherlands are firm favorites to progress however, Chile cannot be completely ruled out. They are an entertaining team that is notoriously tough to beat. There is a wealth of star football players lining up to wear the Spain shirts. Vincente del Bosque has not yet announced his squad but it is sure to be an impressive line up.

Throughout qualification Spain did not lose a match but their performance was subdued in last summers Confederations Cup. They didn't lose a match in the group stage, but only managed to beat Italy on penalties in the semifinal. The team wearing the Spain shirts met Brazil in the final but lost 3-0 adding fuel to the speculation that Spain will not retain their trophy this summer. But they still may emerge victorious and win back-to-back World Cup championships.

Kit Yourself Out and Shop for Your Spain Shirts While Supplies Last at Soccer Box.