Spartak Moscow may have come in sixth place on last season's Russian Premier League table, but this season, the 21-time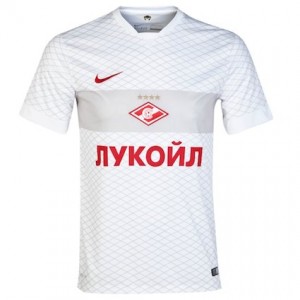 Russian football champions look like they are poised for a comeback. That much has been evident in the matches played so far this season, which have seen the Spartak Moscow soccer jersey, as well as the players wearing it, looking stronger than they have in years.

As Spartak Moscow looks to dethrone the currently undefeated Zenit St Petersburg team from the top of the Russian Premier League table, you can get your hands on new club merchandise from Soccer Box! We have recently received new stock of Spartak shirts for this season. One of those, the Spartak Moscow away shirt 2014 2015, is a classy and traditional white jersey with Spartak's trademark red accents.

The Season So Far

So far this year, Spartak Moscow has played seven matches and amassed a record of 5 wins and 2 losses. Those statistics have tied Spartak Moscow with other Moscow football teams, CSKA and Dynamo, near the top of the Russian Premier League table. The current point leader is Zenit St Petersburg, a team that remains undefeated seven matches into the 2014 2015 season.

Spartak's new squad made its Russian Premier League debut this season on August 1, donning the Spartak Moscow away shirt 2014 2015 to face Rubin Kazan at Kazan Arena. The match ended wildly in favor of Spartak, with a 4-0 score that got the Red-Whites off to an infectious season start.

The Spartak Moscow soccer jersey has continued to be the sign of a talented and hungry football team since that season opening match over a month ago. On August 10, Spartak Moscow won another away game, beating Dynamo Moscow 2-1. A similar outcome came of Spartak's away match at CSKA Moscow, when Spartak defeated the defending Russian Premier League champs 1-0.

New Home VenueÂ

These early matches have certainly made the Spartak Moscow away shirt 2014 2015 seem like a good luck charm of sorts for the Spartak squad, but Spartak Moscow has also proven an ability to win matches at its brand new home stadium.

In the past, Spartak Moscow has never had its own home football ground. The team has instead played home matches at "borrowed" grounds throughout Russia. For instance, last year, Spartak played its home games at Lokomotiv Stadium, the home ground of FC Lokomotiv Moscow. Of course, the stadium was never really "home," and Spartak Moscow was likely put at a disadvantage by never having a home base of its own.

That all changed this year, and it could be one of the reasons why Spartak Moscow is suddenly performing at such a high level after years without a national title. The new football stadium, Otkrytie Arena, has a capacity of 44,000 and has been under construction for four years. The work on the new venue was finally completed at the end of August, and Spartak's players took the ground for the first time on September 5 for a friendly match against Serbian club, Crvena Zvezda.

Spartak Moscow has also now officially played its first competitive home fixture at Otkrytie Arena. The match, which brought Spartak up against Torpedo Moscow, ended in favor of the home team with a final score of 3-1. Clearly, both fans and players for Spartak Moscow are going to enjoy having a place to call home.

The Top Team in Moscow

With the at-home win over Torpedo Moscow, as well as the earlier season triumphs over CSKA and Dynamo, Spartak Moscow has very nearly attained temporary bragging rights as the best football club in Moscow. Since Spartak was beaten in last year's Russian Premier League rankings by CSKA, Lokomotiv, and Dynamo, such hometown triumphs hold some weight.

Of course, Spartak hasn't faced Lokomotiv yet. That match will take place at Otkrytie Arena on October 26. However, Lokomotiv is struggling thus far this season with a current record of 2 wins, 3 draws, and 2 losses. Given Spartak's recent high level of play, it is likely that the club will find yet another victory when facing Lokomotiv. In the meantime, Spartak has several more home games to play in the Russian Premier League, giving Spartak more opportunities to consolidate their strong season opener.

Do you think Spartak's streak of success will continue? Could Spartak Moscow be this year's Russian Premier League champion? That much remains to be seen, but you can support the team by stopping by Soccer Box today and purchasing a new Spartak Moscow soccer jersey.