Securing some big names in recent years, the Serie A teams are gaining a much wider fan base across the world. And with these big signings come big prices which is where we see the dominating teams such as Juventus, Inter Milan and AC Milan being the ones who are able to foot the bill. Therefore, within this post we are going to explore the top 10 players in the Serie A who are on the highest wages.
10 Footballers in the Serie A Who Have the Highest Weekly Wages
To begin with we are going to pinpoint who the top earners of the Serie A league are at the moment and below we have listed the top 10 based on their weekly wages. Throughout this article we are then going to explore the players further looking into their technique, performance, style of play and their introduction to the Serie A league.
Cristiano Ronaldo
Alexis Sánchez
Christian Eriksen
Paulo Dybala
Wojciech Szczęsny
Matthijs De Ligt
Romelu Lukaku
Gianluigi Donnarumma
Sami Khedria
Zlatan Ibrahimovic
Cristiano Ronaldo
Club: Juventus
Wage: £950,000 per week
Considered one of the best players of his generation, Cristiano Ronaldo is certainly a force to be reckoned with. In 2018/19 Ronaldo made his move from Real Madrid to Juventus where he began to make his mark in the Serie A for a fee of £105.3m. Since the transfer Ronaldo has played 96 times for Juventus, netting 74 goals and completing 19 assists in theJuventus football kit.
Ronaldo is much adored and admired by supporters and players alike due to his strong training and work ethic, which has allowed him to perfect his skills to the highest level. Through this extensive training he has been able to improve his footwork so that he can confidently use both the left and right foot. As well as this, he is ranked one of the fastest players in the world when in possession of the ball and without. This impressive pace and acceleration of his is what makes him a versatile attacker who can confidently take on any position as well as a one on one interaction.
Throughout his years Cristiano Ronaldo has become a household name with his trademark stepovers and chops, so we are not surprised to see him ranking top of the league with his wages.
Alexis Sánchez
Club: Inter Milan
Wage: £400,000 per week
Now a permanent member of the Serie A team – Inter Milan, Alexis Sánchez has been acquired by Inter Milan from Manchester United on a free transfer three-year deal. Previously he had been on loan from Man Utd to Inter during 19/20 but at the beginning of 20/21 he made his moved to the club permanently. Originally Sánchez was purchase by Manchester United from Arsenal for £30.6m back in 2017/18.
During his time with Inter Milan, over all he has made 41 appearances on the pitch securing 5 goals and 13 assists in total. Sánchez is renowned for his impressive technique on the field which not only allows him to make space for goals himself, but he also plays a big part in creating the opportunity for his teammates too. This is why when looking at this career totals we can see that his goals and assists are very close indeed.
Due to his versatile footing, Sánchez has been seen on the pitch in a variety of roles such as supporting striker, winger, false-9, attacking midfielder and main striker, in which he has performed spectacularly. As well as this, due to his precision when striking he is a great benefit to the team during set pieces.
Christian Eriksen
Club: Inter Milan
Wage: £229,000 per week
In 19/20 Christian Eriksen made his transfer from Tottenham Hotspur to Inter Milan for £24.3m. Prior to this, he only played with Spurs for a handful of seasons after moving from Ajax where he grew up playing in their youth teams. While playing for his latest team – Inter Milan he has appeared in the Inter Milan football kit 34 times scoring 4 goals and 3 assists. And during his career he has also been awarded the Footballer of the Year award three times for his national play for Denmark.
Despite his impressive technique and ability to read the game, Eriksen favors an attacking midfielder position in the centre behind the forwards. Tactically Eriksen is highly capable of taking on roles such as central midfielder, right winger and second striker too. He is also the go-to player for free kicks due to his precision, power and accuracy from afar. In addition to this he is also known for his excellent vision when it comes to his passing range and cross accuracy to deliver a set piece to perfection or take a creative approach to a game when preempting what the oppositions next move is.
Paulo Dybala
Club: Juventus
Wage: £224,000 per week
Moving from Palermo to Juventus in 2015/16, Dybala was acquired by the Serie A team for £36m. While donning the Juventus kit, Dybala has made 236 appearances and made 96 goals and 38 assists. And within this, he achieved the Top Scorer in the Copa Italia for 16/17 and the Player of the Year in 19/20.
Known for his impressive and versatile technique on the pitch, Dybala is often compared to the most famous forwards. He is powerful and accurate with his shots outside of the box and is very sought after for his balance and close control in limited spaces. Due to his ability to protect and hold the ball for teammates by having his back to the goal, he is a superb team player but still holds his own on one and one with the opposition. He excels in counter attacks, which sees him often take the following positions on the pitch; forward, main striker, centre forward, supporting forward, attacking midfielder, playmakers, inside forward, false attacking midfielder, false-9 and inverted winger.
His most infamous trait is his signature 'mask' celebration which was first used in a match against Milan when they lost the Supercoppa. In an interview he says the mask represents the one worn by Gladiators as "When we struggle, sometimes we must wear our warrior mask to be stronger, without losing our smile and kindness."
Wojciech Szczęsny
Club: Juventus
Wage: £211,000 per week
Starting out at Arsenal at a young age Szczęsny showed a lot of promise with his significant athleticism, strong reflexes, agility, shot stopping and distribution however he came under fire at lot during his time there due to his inexperience. As a result of this he was loaned to the Italian team Roma to gain the required playing and training experience needed. Under the guidance of Spalletti and Nanni, Szczęsny was able to flourish into the world class goalkeeper he is today. He returned to Arsenal at the end of his loan in 2016/17 only to be snapped up by Juventus less than a month later for £12.60m.
While playing with Juventus, Szczęsny has made 107 appearances for the team along with 92 goals conceded and 47 clean sheets. What makes him such a top-quality goalkeeper is his efficient approach to the position rather than the spectacular and showcasing side which is often seen. This therefore allows him to focus on his technique and accuracy time after time.
Matthijs de Ligt
Club: Juventus
Wage: £201,000 per week
Making his first move from the team he grew up with, Matthijs transferred from Ajax to Juventus in 2019/20 for £76.95m. During his time with Juventus so far, de Ligt has appeared in the Juve kit 41 times scoring 4 goals and making 1 assist. In 2018 Matthijs was awarded the Golden Boy Award to celebrate his strong performance throughout the year.
De Ligt is often seen in an attacking midfield position due to his physical and technical ability being a right footed centre back. What makes him such a strong player at a young age is his clean tackling skills which go hand in hand with his ability to anticipate and mark the opposition. He also has the strength, speed and accuracy needed to be an effective midfielder that allows him to begin attacking from the back during play. As well as this, his height is a great benefit too.
Romelu Lukaku
Club: Inter Milan
Wage: £189,000 per week
In 2019/20 Romelu Lukaku moved from Manchester United to Inter Milan for a fee of £66.6m. And despite only being with the club for a short period of time, he has already secured 43 goals and 8 assists in 61 appearances on the pitch for Inter.
Lukaku is known for using his size, strength, and physical build to get around the defenders which makes him a very effective striker. Despite his skill set pointing towards the centre position with his ability to hold-up play with his back to the goal, Lukaku actually prefers the role of a striker or poacher. As well as these positions, Lukaku is also highly capable of fulfilling the role of a winger too. What makes him a stand-out forward is pace and superb vision which allows him to move into effective attack positions as well as creating space and opportunities for his teammates due to his tactful runs off the ball.
Gianluigi Donnarumma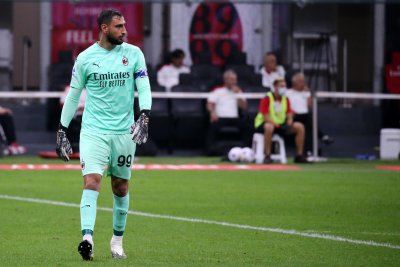 Club: AC Milan
Wage: £184,000 per week
Throughout his career so far, Gianluigi has played for AC Milan starting in their youth team and Primavera before transitioning to the first team in 2015/16. While donning the AC Milan football kit he has appeared 216 times with 225 goals conceded and 77 clean sheets. Due to his young age, Donnarumma is still in the process of gaining experience with AC Milan but has a very promising future.
Donnarumma is known for his large and slender frame which helps him to have an extensive reach when in goal as well as having a high level of agility. He is also renowned for his composed and introverted nature and ability to withstand pressure. Donnarumma is also highly effective when it comes to stopping penalties due to his impressive reflexes which definitely makes him one to watch as he continues to perfect his technique as he gets older.
Sami Khedira
Club: Juventus
Wage: £184,000 per week
In 2015/16 Sami Khedira made his transition from Real Madrid to Juventus on a free transfer. Since playing with the Serie A team, Khedira has donned the Juventus kit with pride 145 times making 21 goals and 13 assists in total.
Perceived as a dynamic and well-rounded midfielder, Khedira is often seen in a number of midfielder roles such as central, defensive, offensive and box to box. This is what makes him a highly versatile player as he can not only cover a lot of ground efficiently in order to recover the ball, but he is also impressively fast on his feet. He is able to quickly join the team's attacking plays as well as making late runs to the penalty area from behind. Sami is also renowned for his heading accuracy and powerful midrange shooting which makes him a very strong goal threat to the opposition.
Zlatan Ibrahimovic
Club: AC Milan
Wage: £181,000 per week
Zlatan transferred from LA Galaxy in 2019/20 to AC Milan as a free transfer. During his time with AC Milan he has already made 115 appearances for the club, and in this time, he has scored 78 goals and 31 assists. In his history he was won the top scorer 5 times as well as being named the Footballer of the Year for his national team performance.
Ibrahimovic is a very well rounded and versatile football player who is able to take on a wide range of roles efficiently and is most commonly seen on the front line. He is often implemented as a striker due to his ability to create and score goals as well as holding his composure and maintaining an eye for a goal. Ibrahimovic is also very effective in a creative playmaking role, such as a forward or 10 due to his tactical abilities. He uses his height to his advantage which sees him often perform accurate headers. And as well as this despite him prominently using his right foot, he is also versatile in his footwork in a striking position, both inside and outside the penalty area, by using both of his feet.
Serie A's Top 10 Earning Players
Above we have explored the profiles of the top 10 players in the Serie A who have the highest weekly wages out of all of the teams in the Italian soccer league. We want to know your thoughts on this list of players, to get in touch you can find us over on our social media pages. And don't forget that you can shop your favourite Serie A team's kit on our online store too!
All images used under licence from Shutterstock
This article was written exclusively for Soccer Box by Loren Astbury