Next in our blog series we are going to explore the players in the Bundesliga and try to identify who the highest paid footballers are to see if they are actually worth their wage. Constantly fighting for the top spot are Bayern Munich and Borussia Dortmund, so there is no doubt that they will both own the high-ticket players in the league.
13 Players Who Have the Highest Weekly Wages in the Bundesliga
Before we delve into the article, we are going to identify who the top earners in the Bundesliga are. For this article we are going beyond the top 10 as there are a number of players who are on the same or similar pay, so in this article we are going to look at the top 13. Below we have listed the top 13 earners in the Bundesliga based on their weekly wage and throughout this post we will look into their performance and technique:
Robert Lewandowski
Manuel Neuer
Thomas Müller
Lucas Hernández
Jérôme Boateng
Marco Reus
Mats Hummels
David Alaba
Emre Can
Kingsley Coman
Leon Goretzka
Erling Haaland
Joshua Kimmich
Robert Lewandowski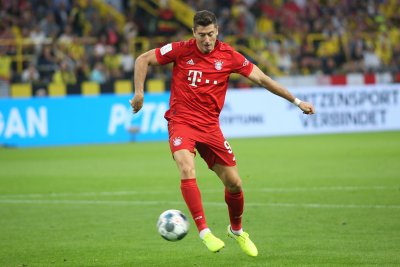 Weekly Wage: £331,000
Club: Bayern Munich
In 2014/15 Lewandowski was transferred to Bayern Munich from Borussia Dortmund on a free transfer. Throughout his time so far donning the Bayern Munich kit, Lewandowski has made 304 appearances for the club, netting 261 goals, and making 62 assists. And out of his entire career he has secured 16 top scorer titles, 9 footballer of the year awards and the UEFA Best Player in Europe for 2020 too.
Lewandowski is an accurate and precise finisher with both his head and feet and is often used in a goal-poaching role. This is because of his positional sense, ability to shoot first time as well as his strength in the air and powerful shot with both feet. He also possesses excellent technical skills and is quick footed which paired with his expert vision, make him an unstoppable force.
Manuel Neuer
Weekly Wage: £248,000
Club: Bayern Munich
Manuel Neuer joined Bayern Munich in 2011/12 after a £27m transfer from Schalke 04. Since joining Bayern, Neuer has made 403 appearances with 300 goals conceded and 201 clean sheets. He has also been awarded footballer of the year twice for his national play.
What makes Neuer such a standout goalkeeper is his spectacular reflexes which aid his impressive shot stopping ability. As well as these traits he also possesses agility, speed and footwork which assist him when coming out to collect crosses so that he can effectively command his area. And when required, Neuer will take on the role of a sweeper by running out of goal so that he can gauge the opponents next move and clear the ball.
Thomas Müller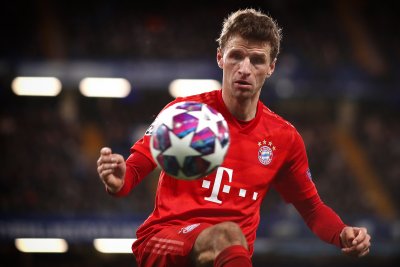 Weekly Wage: £248,000
Club: Bayern Munich
Thomas Muller has grown up with Bayern Munich after starting in their youth teams and working his way up to the Bayern II squad and then the Bayern Munich first team in 2009/10. During his time with the first team, Muller has made 553 appearances for the club, scoring 208 goals, and completing 202 assists.
Muller is most commonly used as an attacking midfielder in the three formation behind the strikers. He is capable of playing in any of the attacking midfielder positions but is mainly seen in a central role with Bayern but plays on the right wing for his national team. Muller is mainly known for his composure on the pitch as well as his maturity, technique, awareness, and tactical intelligence which makes him a well-rounded midfielder. He is also a consistent creator of goals and a scorer so can sometimes even be implemented as a second striker too.
Lucas Hernández
Weekly Wage: £224,000
Club: Bayern Munich
Hernandez signed with Bayern Munich in 2019/20 for £72m from Atletico Madrid. This was the first major move for Hernandez as he grew up in the Atletico Madrid youth teams. Since being with Bayern Munich, Hernandez had made 39 appearances, in which he scored 1 goal and made 3 assists.
Hernandez is most commonly used as a centre back but can also take on a left back position too. He is incredibly fast and has a superb ability to intercept the ball from the strikers after they have got behind the last line of his team. Assisting this is his impressive spatial awareness and ability to read the game. He also possesses skills such as precise passing, excellent ball control, decision making and fast attacks which all contribute to making him a strong full back that can easily transition from attack to defense.
Jérôme Boateng
Weekly Wage: £198,000
Club: Bayern Munich
In 2011/12 Boateng joined Bayern Munich on a £12.15m transfer from Manchester City. And since signing with Bayern, Boateng has made 337 appearances for the club, scoring 9 goals, and making 24 assists.
Boateng is often seen in a centre-back position but can also play right-back as well. He is a physically strong player who has great composure when in possession of the ball. He also has a good passing ability and can easily red the game which also make him an effective defender.
Marco Reus
Weekly Wage: £198,000
Club: Borussia Dortmund
Reus was purchased by Borussia Dortmund from Borussia Monchengladbach for £15.39m in 2012/13. He has made 282 appearances in the Borussia Dortmund kit where he has scored a total of 132 goals and carried out 83 assists. Reus also has acquired 3 'Player of the Year' titles and 2 'Footballer of the Year' too.
Reus is mainly seen in a forward position but can also play in different offensive positions as well as second striker. Mostly known for his versatility, speed, agility, technical skills, intelligence and shooting ability, Reus is certainly a strong player. He has an eye for a goal whether it be one he scores himself or by creating chances for his teammates.
Mats Hummels
Weekly Wage: £165,000
Club: Borussia Dortmund
In 2019/20 Hummels transferred from Bayern Munich to Borussia Dortmund for a fee of £27.45m. Since joining Dortmund Hummels has made 118 appearances on the pitch for the club where he scored 8 goals and made 9 assists in total.
Hummels is a strong defender who is known for his powerful tackles and impressive strength while in the air. He also possesses an ability to read the game as well as intercepting loose balls which makes him a tactically impressive centre-back. Although Hummels is mainly seen in the back positions he can also be implemented as a midfielder too where his composure, confidence and ball playing ability shine.
David Alaba
Weekly Wage: £165,000
Club: Bayern Munich
Alaba moved to the Bayern Munich first team in 2010 after playing in their second squad for a single season after transferring from the Austria Wein II team. After moving to the first team Alaba was out on loan to Hoffenheim but shortly returned later that season and has been playing for Bayern Munich ever since. During his time playing for the Bayern Munich first team, Alaba has made 401 appearances where he netted 32 goals and made 49 assists. He also has been named footballer of the year six times for his national play.
Alaba is normally used as a left-back but is ever so often implemented as a central defender too. Alaba is known for his precise and accurate short passes as well as his ability to hold onto the ball. As well as this he possesses great crossing skills and is a go-to for free kicks as they are direct and accurate.
Emre Can
Weekly Wage: £153,000
Club: Borussia Dortmund
Emre Can joined Borussia Dortmund in 2020 after a successful loan period from Juventus ended and the club purchased him from the Serie A team for £22.50m. Despite only playing with the club in a handful of matches, he has made 25 appearances in total whereby he scored 3 goals and made 2 assists.
Can is a highly versatile attacker and defender who can thrive in any position. Due to this he is seen in a variety of roles such as central midfielder, defensive midfielder, attacking midfielder, winger, box to box, right side full back, wing back and centre back. His composure while in possession of the ball is what is highly admired, and he also has high energy on the pitch. Teamed with this, he has a great sense of timing, positioning and awareness which allows him to be in the right place at the right time for his teammates.
Kingsley Coman
Weekly Wage: £133,000
Club: Bayern Munich
Coman was purchased by Bayern Munich in 2017/18 from Juventus for a fee of £18.90m. And during his time with the Bundesliga squad, Coman has made 173 appearances where he netted 38 goals and 42 assists were executed.
Coman is mostly seen as a left winger due to his right footed nature but can be used on either side and has also been implemented as a central offensive midfielder and a striker too. His preferred position is on the left where he can easily beat opponents in a one on one and can also cut into the centre where he can either shoot or create chances for his teammates as well as performing attacks from the centre.
Leon Goretzka
Weekly Wage: £133,000
Club: Bayern Munich
Leon Goretzka was a free transfer from Schalke 04 to Bayern Munich in 2018/19. And in the past few seasons he has been playing for Bayern Munich he has made 93 appearances on the pitch where he scored 21 goals and made 12 assists. He also has a Silver Boot and Bronze Ball award from the 2017 FIFA Confederations Cup where he played for Germany and netted 3 goals.
Goretzka is known for his superb ball control and ability to choose the right opportunities to execute passes to teammates. He is also notable for his powerful shots that are made from outside of the penalty area and his excellent heading ability. Goretzka is often seen as a central midfielder but can also play as a defensive midfielder, right winger, and playmaker.
Erling Haaland
Weekly Wage: £133,000
Club: Borussia Dortmund
Erling Haaland was purchased by Borussia Dortmund from RB Salzburg in 2019/20 for a fee of £18m. With only a handful of seasons under his belt for Dortmund, Haaland has made 32 appearances in which he scored 33 goals and executed 6 assists.
Haaland possesses explosive acceleration and precise off the ball movement which are both superb traits which make him an effective striker. As well as this he is quick to note when the opposition is distracted so he can gain access between defenders so he can be a great option for teammates with the ball. He is often noted for his ability to get between the defenders due to his instinct and fast read of play. He is a highly versatile goal scorer too, which sees him take powerful long shots as well as composed finishes as well as headers and dinks.
Joshua Kimmich
Weekly Wage: £132,000
Club: Bayern Munich
In 2015/16 Kimmich moved from VfB Stuttgart to Bayern Munich for a transfer fee of £7.65m. He has made 233 appearances for Bayern Munich where he has netted 27 goals and made 64 assists in total.
Kimmich is a versatile player who is both confident in attacking and defending positions but is most commonly seen as a defensive midfielder or right back. Kimmich's strengths are winning the ball back from the opposition as well as his impeccable timing for tackles. He also is fantastic with his long-distance kick and corners which makes him a threat to set pieces. As well as this, he can adapt easily to include Neuer in play by dropping back to play from behind.
Top 13 Highest Paid Players in the Bundesliga 2020
In this blog post we have taken a look into the performance and careers of the top 13 highest paid footballers in the Bundesliga, but now we want to know your opinion. Do you think these players deserve the wages they are taking home at the moment? Find us on our social media pages and let us know your thoughts, and do not forget to shop our vast range of Bundesliga kit over on our online store and pledge allegiance to your idols now.
All images used under licence from Shutterstock
This article was written exclusively for Soccer Box by Loren Astbury