As the season winds down for the football clubs in England's Premier League, and as most of the attention in the soccer community turns its focus to next month's World Cup, the Tottenham Hotspur football club is reflecting on what has been another solid, if unspectacular, season in its storied 131-year history. As expected, Tottenham Hotspur finished this year's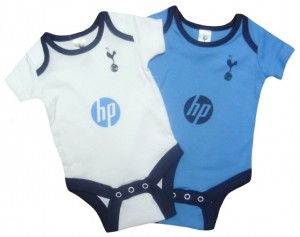 Premier League in sixth place more or less in line with the team's fifth place finish last season and is showing the kind of strength that will make fans want to stock up on Tottenham baby clothes and team jerseys in hopes of an even stronger season next year.
As the Tottenham season concludes, Soccer Box is clearing out the team's 2013 2014 merchandise. Already, we are out of stock of the classy Under Armour home and away kits that the team wore this year. For soccer fans and families with young children, however, we do have stock left of the Brecrest Tottenham Hotspur baby bodysuits.
These Tottenham baby clothes bear the same blue and white colors as their larger adult jersey counterparts, not to mention the team's sponsorship tag from Hewlett Packard. In addition to the bodysuits mentioned above, we have baby bibs, sleep suits, and t-shirt kits that will make your baby look like the biggest Tottenham fan on the planet.
Recent Premier League Success
Big fans, whether they are wearing adult jerseys or Tottenham Hotspur baby bodysuits, are precisely what the Tottenham Hotspur football club is going to need if it is going to transcend its current sixth place position to become a veritable Premier League contender next year.
Already, the Tottenham Hotspur team has made huge progress toward joining teams like Manchester United and Chelsea as Premier League heavyweights. Last season, the Tottenham club missed out on a fourth place Premier League finish by a single point.
The top four teams in the 2012 2013 season Manchester United, Manchester City, Chelsea, and Arsenal are the only clubs to have claimed the Premier League title in the past decade. In other words, Tottenham Hotspur was in good company last year. In fact, the team only lost to Arsenal for the fourth place position because Arsenal had a draw where Tottenham had a loss. Otherwise, the two clubs would have had the same record.
This year, Tottenham hasn't performed quite as well. Last year's record of 21 wins, 9 draws, and 8 losses has given way to a record of 20 wins, 6 draws, and 11 losses. Those extra defeats have cost Tottenham significantly, and while the team remains in a respectable position, it has been passed this year by both Liverpool and Everton.
This season has been a significant one for the Tottenham team though, since the final Premier League standings will show the team coming in ahead of last years' victors, Manchester United. Man United has had something of a disastrous season after dominating the Premier League for the better part of the decade, but Tottenham's ability to edge out one of the most consistent and resilient teams in all of soccer is certainly notable.
Looking Toward a Stronger Season
With several solid seasons on the books now, Tottenham will undoubtedly be looking to head back to the drawing board this fall and formulate a team that can not only hang with the heavyweights, but beat them.
To do that, the Tottenham Hotspur football club may have to bring in some new blood, and recent reports have shown that the team is likely to beat Arsenal and Manchester United in a race to sign Jackson Martinez, a talented striker currently playing for FC Porto in Portugal. If Martinez comes onboard, he could be a new star for the Tottenham team. In other words, you are going to want to stock up on Tottenham Hotspur baby bodysuits and jerseys now, because next season could be this team's year.
Head to Soccer Box today to see what we have to offer in terms of

Tottenham baby clothes

and other gear.