In the 2014 - 2015 Bundesliga season, Werder Bremen won 11 games, drew 10, and lost 13. It wasn't a great record, by any means, but it was enough to put the River Islanders in the league's top 10 and to keep them well out of relegation range. So far, though, the 2015 - 2016 campaign has been nowhere near as kind to Werder Bremen. The football club picked up a 0-3 loss in their season opening match against Schalke 04, and things have hardly improved since. With a 1-2 defeat at Eintracht Frankfurt on Saturday, December 19
th
, the River Islanders dropped to 16
th
place on the Bundesliga table?back in the danger zone, they've been trying to escape all season long.
A Sour Note
The December 19
th
loss closed out Werder Bremen's 2015 run on a sour note. Sure, the River Islanders have seen the red zone a few times already this season?both after their opening game with Schalke and
in October following losses against Bayern Munich and Borussia Dortmund. But things seemed to be looking up for Bremen ahead of their final 2015 fixture. They'd drawn their previous two Bundesliga matches (with VfB Stuttgart and FC Cologne, respectively), and had recently scored an unexpected 4-3 win against Borussia Monchengladbach in the round of 16 of the DFB Pokal.
In fact, that decisive German Cup win?which knocked Monchengladbach out of the tournament and earned the River Islanders a spot in the quarterfinals?was the second time Bremen had beaten the football team this season. Monchengladbach is notable this season as the only Bundesliga team to have beaten Bayern Munich so far, but they showed signs of weakness early on, including a 2-1 loss at Werder Bremen at the end of August.
Unfortunately for fans of the River Islanders, the soccer club couldn't translate their big cup win over Monchengladbach into a satisfying capper to 2015. Playing at the Commerzbank Arena in their away match against Eintracht Frankfurt, Werder Bremen took an early lead with a 29-minute goal from Claudio Pizarro. Frankfurt equalized just two minutes later, though, and ultimately took back the lead to win in the second half.
Detrimental Defense
The defensive failures that cost Werder Bremen a win in the Eintracht Frankfurt match have repeatedly manifested themselves throughout the soccer club's current season. Indeed, 17 games into the 2015 - 2016 Bundesliga campaign, the River Islanders have conceded 32 goals?more than any team on the table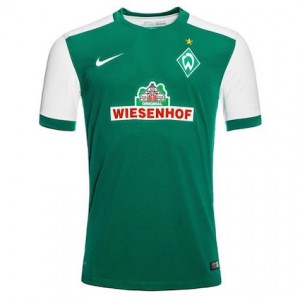 except Stuttgart.
To be fair, Werder Bremen haven't exactly been great defensively in the past, either. Last season, they conceded 65 goals across 38 fixtures, tying Paderborn for the highest "Goals Against" tally in the league. (Paderborn, for reference, finished dead last in the league and were relegated.)
Last season, though, Bremen had enough offensive firepower to cancel out their detrimental defense?mostly, anyway. They scored 50 goals, with Franco Di Santo providing 13 of them. Di Santo tied with Bayern Munich's Thomas Muller as the sixth most prolific goalscorer in the league.
Di Santo transferred to Schalke 04 over the summer, leaving Werder Bremen without their best player. The departure has been catastrophic for the River Islanders, who have failed to score at all in six of their 17 games. Or, at least, they've failed to score for themselves. In two of their biggest losses?the 0-3 opener with Schalke 04 and a 0-6 defeat at Wolfsburg in November?the scoring started with an own goal from the Bremen side.
With a struggling defense and an offense that's lost its heart, Werder Bremen ended 2015 with four wins, three draws, and ten losses?not to mention a goal difference of -15. This campaign marks the football club's 33
rd
consecutive season in the Bundesliga, which means they won't be relegated without a fight. However, they are either going to need to find some momentum or grab a few new players in the January transfer window if they are going to have a shot at landing in the top 10 again.
Root for the River Islanders today by purchasing a brand new
Werder Bremen jersey
 from the Soccer Box online store. Use the coupon code "
BLOG2015
" to
save 12.5%
 on the shirt.