In the past four years, Galatasaray SK have won the Turkish Super Lig title three times-in 2012, 2013, and this past spring. The 2013 2014 season, meanwhile, saw the football club bowing out in second place, behind Fenerbahce. In other words, the past few years have been nothing but dynamite for the Galatasaray soccer squad, and the question now is whether or not the reigning league champions can nab another title for the just-begun 2015 - 2016 Super Lig season? And will influential new signing Lukas Podolski help Galatasaray to the top of the Turkish football podium?

The Arrival of Podolski

If the wearers of the Galatasaray home shirt 2015 2016 are going to clinch yet another Turkish Super Lig title-their 21st-then new signing Lukas Podolski is doubtlessly going to play a substantial role. The 30-year-old German forward was the club's biggest signing of the summer-he comes to Turkey on a €2.5 million transfer fee, paid to former club Arsenal-and is a promising addition to SK's offensive lineup.

At 30, Podolski is likely reaching the twilight of his soccer career. Still, he's a definite talent with a strong history at a number of clubs. He got his start playing for FC Koln in the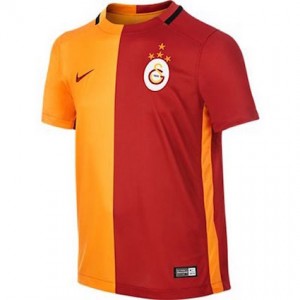 early 2000s, serving as a starter for the club's senior squad for three seasons, from 2003 to 2006. In those three years, he scored 51 goals in 85 overall appearances, catching the attention of the top dog in all German football: Bayern Munich.

For a speculated fee of €10Â million, Podolski swapped the FC Koln jersey for the Bayern Munich shirt in time for the 2006 2007 season. He was not as successful with the German champions, though, only scoring 26 goals in the 106 appearances he made over the course of three seasons. Bayern Munich ultimately sold Lukas back to FC Koln, supposedly the same amount they had paid for him three years earlier.

Podolski's Later Years

Lukas Podolski was only 24 years old when he returned to FC Koln for the 2009 2010 season, but it already seemed as if he was a player in decline. He'd taken a big step up to join the Bavarians-only to have the transfer not work out in the way that either party had wanted. The disappointment, perhaps, contributed to Podolski's poor 2009 2010 season at Koln, where the €10Â million forward only scored three goals in 31 fixtures. For a moment, it looked as if his career as a professional footballer was over.

Lukas bounced back after that year, though. In 2011 2012, he scored 18 goals and tied with two other players as the fourth most prolific scorer in the entire Bundesliga. Ironically, he also outscored every Bayern Munich player except for Mario Gomez. Perhaps the Bavarians cut Podolski loose too soon, or perhaps he just thrives better in lower pressure situations.

Welcome to Galatasaray

In any case, it will be interesting to see what kind of numbers he puts up in the Turkish Super Lig, which, while still competitive, is undoubtedly less competitive than the German Bundesliga. It's also less competitive than the countries where Podolski has spent his most recent years, including England, where he played for Arsenal, and Italy, where he spent the second half of the 2014 2015 season on loan to Inter Milan.

Lukas held down strong statistics at Arsenal, never being the soccer club's "star," but still recording 31 goals in 82 appearances. He didn't make much of an impact at Inter Milan though, only playing in 18 football matches during his loan period, and only scoring a single goal.

Already, Podolski is doing better at Galatasaray. In early
August, he donned the Galatasaray home shirt 2015 2016 for the first time, in a club friendly that netted him a win over his most recent football club, Inter Milan. Lukas provided the assist that made the 1-0 victory possible.

On Saturday, August 15th, Podolski played in his first Turkish Super Lig match, in an away game that Galatasaray drew 2-2 with Sivasspor. It wasn't a great outcome-particularly for the reigning league champions-but Podolski was the man to rescue Galatasaray from a loss, taking an assist from Alex Telles to equalize the score at 81 minutes.

Are those two games signs of good things to come for Lukas Podolski in Turkey? Celebrate his arrival today, with a brand new Galatasaray football shirt 2015 2016 from Soccer Box!