At the beginning of this season, it wasn't clear just how much time Willian, a 27-year-old Brazilian midfielder who has played for Chelsea since the 2013 2014 season, would get to spend on the soccer pitch. Willian made 36 appearances during the 2014 2015 campaign and was a strong part of the season's Premier League-winning squad. However, with fellow Brazilian teammate Pedro transferring to Chelsea over the summer, many football pundits pointed to Willian as the player most likely to lose his spot in Jose Mourinho's starting lineup.

However, in what has turned out to be a dismal campaign at Chelsea so far, Willian has been one of the lone bright spots. The attacking midfielder is the football club's top scorer for the season, with two goals in league play and five overall. He's singlehandedly kept the Blues in the running in the Champions League and is one of the few reasons fans are still holding out hope for a turnaround in the Premier League. Needless to say, Jose Mourinho has noticed Willian's contributions and has awarded the Brazilian midfielder with consistent starts and plenty of play time. But, is Willian at Chelsea set to be a long-term feature, the club reportedly want to offer him a new contract, we ask should he stay?
Shop for Chelsea Football Shirts

A New Contract

The rumor mill says that Chelsea officials are drawing up a new contract to keep Willian at Stamford
Bridge. He signed a five-year contract when he came to Chelsea in 2013, which means that the midfielder still has more than two years on his current deal. However, the buzz is that the Blues want to reward their current star player for his high level of play with a better, higher-paying deal.

Such a deal would also help stave off outside interest for Willian, of which there is bound to be plenty. After all, any soccer club could use a man who plays as well in less-than-ideal situations as Willian has this season. Rumors state that Bayern Munich and Paris Saint Germain are both already showing interest in Willian, and other suitors are bound to come.

To Sign or Not to Sign?

The question is, should Willian sign that new deal if it is offered? Or is Chelsea a sinking ship that he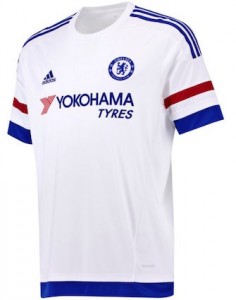 should try to escape sooner rather than later?

On one hand, Chelsea have been a wreck this season, with star players like Diego Costa, Eden Hazard, and captain John Terry underperforming and with manager Jose Mourinho being a constant lightning rod of controversy. 12 weeks into the season, the Blues are in 16th place in the Premier League, with three wins, two draws, and seven losses on their record.

Things are slightly better in the Champions League, where Chelsea are in second place in Group G, behind Porto but ahead of Dynamo Kyiv. Willian scored a key goal late in a recent match against Kyiv, earning Chelsea a 2-1 win and giving the Blues a fighting chance at progressing to the knockout stage.

Big Dreams

Still, even despite the fact that things aren't perfect at Stamford Bridge right now, Willian doesn't seem likely to abandon ship. The Brazilian football star has found his groove at Chelsea and has just recently expressed his goal of becoming a legend with the soccer club. He wants to win the PFA Player of the Year award and the Ballon d'Or before his career is over, and from the sounds of it, he wants those things to happen at Chelsea.

Those are big dreams, and Willian would probably be smart sticking around at a big football club if he wants to see them come true. He doesn't want to get away from Jose Mourinho either, having praised the polarizing manager as "one of the best in the world," and as someone he learns new things from regularly.

Bottom line, it looks like Willian will sign a new contract at Chelsea, whenever the football club offers one. But can he and Jose Mourinho work together to turn things around at Stamford Bridge? And if they can, is the accomplishment worthy of national or continental soccer honors?

Cheer for Willian and the Blues today, with a new Chelsea jersey 2015/16 from Soccer Box.