VfL Wolfsburg ended the 2014 - 2015 Bundesliga campaign in second place, with an impressive record of 20 wins, nine draws, and five losses. To be sure, the football club benefitted from an off year for the usual runners-up at Borussia Dortmund. However, the Wolves were also just a very solid soccer team, finishing just 10 points behind Bayern Munich at the final tally and managing a +34 goal difference in a season where even the fifth-place team landed at a GD of zero.
Led by the 16-goal performance of striker Bas Dost, the Wolves scored 72 goals in 34 fixtures?just eight points off Bayern's goal total of 80. Wolfsburg had only won one title in the history of top-flight German football, in the 2008 - 2009 season. However, based on how well the soccer club did last season, some fans and pundits alike were wondering whether or not the Wolves might contend for the Bundesliga title in 2016.
Order Wolfsburg Soccer Jerseys
A Middling First Half
Unfortunately for fans in the Wolfsburg home shirt 2015/16, it appears like the Wolves will have to wait for another season to bring their national title count to two. The first half of the current Bundesliga season, which concluded on Saturday, December 12
th
with the football club's 1-3 loss against Stuttgart,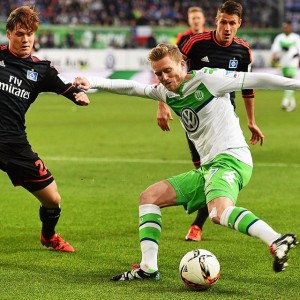 has been mostly middling. In fact, 17 games into the 34-game season, Wolfsburg are stuck back at seventh place in the league standings?a distant 20 points away from leaders Bayern Munich.
Things started well enough for the Wolves this season. After a season-opening win against Eintracht Frankfurt, the team managed notable wins against Schalke 04 (3-0) and Hertha Berlin (2-0) and made it through five weeks of competition without losing a soccer match.
It was with a 1-5 loss against Bayern Munich in week six?wherein
Munich
striker Robert Lewandowski scored a remarkable, record-setting five goals in nine minutes?that Wolfsburg began to unravel. They've had flashes of success since?a three-week stretch in October where they won consecutive games against Hoffenheim, Darmstadt 98, and Bayer Leverkusen. But Wolfsburg have also suffered shutout losses to the likes of Borussia Monchengladbach and Mainz 05 and ended their 2015 run with a winless month.
Indeed, after pummeling Werder Bremen 6-0 on November 21
st
, it looked as if the Wolves were finding their way. Instead, the fixture marked the last Bundesliga match that Wolfsburg would win in 2015, followed as it was with draws against Augsburg and Hamburger SV and losses to Borussia Dortmund and Stuttgart.
Identifying the Problem
So what's wrong with Wolfsburg? Why have they gone from last season's runner-up, from being a team that could actually put pressure on Bayern Munich, to being a team that can hardly seem to string wins together?
Things haven't
all
been bad for Wolfsburg, fortunately. The football club won their group in the Champions League, and they did it by beating and ousting English heavyweights
Manchester United
in a down-to-the-wire game six. Bas Dost has recorded a respectable seven goals in the first half of the Bundesliga campaign, and teammate Max Kruse isn't far behind with five.
In fact, Wolfsburg's total goal tally for the first 17 games of the season (26) puts their offense in the top five for the entire league. Their "Goals Against" tally of 21, meanwhile, isn't great but is still one of the lowest on the table. (Borussia Dortmund, for instance, have conceded 23.)
On paper, it seems like Wolfsburg should be doing a lot better than seventh place heading into the winter break. They're scoring reliably, their defense is better than most, and they've shown in the Champions League that they can still rise to the occasion when facing tough teams. For whatever reason, though, those factors haven't translated to wins for the Wolves in the Bundesliga?at least not lately.
Will Germany's lengthy winter break give Wolfsburg's players a time to rest, recuperate, and mentally prepare for a better back half to the season? Can the Wolves escape their recent dry spell when they face Eintracht Frankfurt on January 24
th
? At Soccer Box, we want to hear your predictions about what 2016 might hold for Germany's reigning runners-up. Find us today on
Facebook
,
Pinterest
,
Tumblr
, and other popular social platforms.