Ivory Coast star Yaya Toure has been a core component of Manchester City's offense since he first arrived in the English Premier League back in 2010. However, with rumors swirling about the 32-year-old midfielder's future, it appears that his days at Etihad Stadium-and in the EPL, in general-could be over. Yaya Toure transfer rumors, is his next destination Inter Milan?

Indeed, Internazionale vice president Javier Zanetti recently told the press that the Black and Blues were finalizing negotiations to bring Toure to Italy. The Ivory Coast midfielder has never played for a Serie A team, having begun his senior football career in Belgium (at Beveren) and competed in both the Ukraine (Metalurh Donetsk) and Greece (Olympiacos) before moving into the big leagues with stints at Monaco and Barcelona, and finally at Manchester City.

Reasons for the Move

It's not difficult to see why Inter Milan might want to bring Yaya Toure to San Siro. The club has struggled as of late, and needs to bring in some established talent to keep the faith among fans in the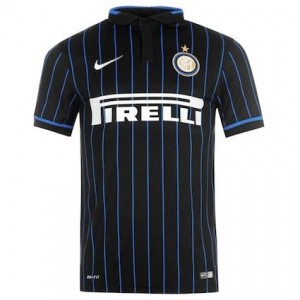 Inter Milan home jersey 2014 2015. Toure, while likely reaching the twilight of his career as a leading offensive player, might just fit the bill.

Furthermore, a move to Internazionale would reunite Yaya with manager Roberto Mancini, who brought him to Man City in 2013 and presided over his best years at the club. Toure and Mancini have the kind of player-coach rapport that could help to turn the tides at San Siro.

Add the fact that Toure is reportedly the highest-paid player at Manchester City, and the Sky Blues might be looking to pass his contract to another club. That's especially true given that the Ivory Coast soccer star scored half as frequently in 2014 2015 as he did during City's Premier League-winning campaign in 2013 2014. Yaya is currently under contract with Manchester City until 2017.

Toure's Man City LegacyÂ

Still, while Toure's age and below-expectations performance in the 2014 2015 Premier League might make this the perfect time for him to swap his Man City soccer jersey for an Inter Milan shirt, the fans at Etihad Stadium will still not be pleased to see him go.

Prior to coming to Etihad Stadium in 2010, neither Manchester City nor Yaya Toure had experienced much success recently. The Sky Blues hadn't won an English top-flight football championship since 1968. Yaya, meanwhile, had gotten plenty of play time at his first five soccer clubs-285 appearances, to be exact-but only scored 22 goals in nine seasons.

Toure and Man City proved to be a good fit for one another. In his first year wearing the Manchester City soccer jersey, Yaya played in 51 games and scored 10 goals-helping the Sky Blues to their first FA Cup title since 1969. In his second year, he helped the football team snap their lengthy Premier League losing streak. And in 2013 2014, he was the club's top Premier League goalscorer-leading the team to a second top-flight title in three years.

Quite simply, with Yaya Toure in the midfield, Man City were able to rebuild their legacy and return to the forefront of English football. If he is to don the Inter Milan home jersey 2015 2016 next year, there won't be a single fan at Etihad Stadium who won't bid him a fond farewell.

Internazionale

For fans who have followed Yaya Toure throughout his career, the prospect of a move to Inter Milan-likely for the final phase of his senior career-is exciting. It was under the guidance of Roberto Mancini that Toure morphed into the leader and the dependable offensive player he is today. Could rejoining with Mancini bring about another late-career triumph for Yaya? Could the two successfully rebuild the legacy of Internazionale as they once helped rebuild Man City? These are exciting questions, to be sure.

If the Yaya Toure transfer rumors prove to be true, welcome Yaya to San Siro by stopping by Soccer Box and picking up a new Inter Milan home jersey from our online store! You can also follow us on social media to keep up with new football jersey releases, transfer rumors, and more. Find us on Facebook, Tumblr and other social media platforms.