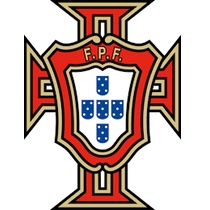 Portugal Soccer Jerseys, Shorts, Socks and Kit
Recent years have sparked intense interest in the Portuguese national football team. This interest has been focused on star player Cristiano Ronaldo and the team's fantastic Euro 2016 performance. As such, the popularity of Portugal football shirts has increased and you can order your official Portugal jerseys here at Soccer Box, supplies are limited though so don't delay and order yours today.

The Portugal national team has been participating in International competition since 1921, but it was not until 2016 that they won there first major trophy. Euro 2016 is seen as the highlight of the team's history, where they beat the host nation, France, 1-0 after extra time. Prior to winning Euro 2016 the closest the Portuguese football team had got to a trophy was finishing runner-up at Euro 2004, and semi-final placings at the 1996 and 2006 FIFA World Cup's.

Obviously, success at Euro 2016 has reignited interest in Portugal from football fans around the globe. The team already enjoyed a phenomenal following thanks to global interest in Cristiano Ronaldo. Ronaldo who wears the number 7 jersey is an international football icon, with many fans choosing to support whichever team he is playing for.

Disappointingly Ronaldo left the pitch 25 minutes into the Euro 2016 final due to injury, however, that has not stopped fans hailing his success, or buying the Ronaldo 7 Portugal soccer jerseys. You can order your Portugal kit here, and we also offer the option to add official Ronaldo 7 lettering.
Nike A 20 Year Commitment to Produce Portugal Soccer Jerseys
The main colours of the Portugal home kit are red with green accents to compliment the colours of the Portuguese flag. Since 1997 sportswear brand Nike has produced the Portugal football and training kit, including the home and away jerseys, shorts and socks.

Nike has consistently maintained the home colours, producing some fantastic kits varying between shades of bright red and maroon, always with a hint of green. Nike has a habit of experimentation particularly for away kits, and we have seen frequent colour and style changes for the team's second choice kit over recent years.

No matter the design, it can be guaranteed that buying an official Nike Portugal jersey is buying a high quality sports jersey that is designed for performance. We are supplied directly from the Nike European distribution centres guaranteeing that you are buying a genuine shirt, featuring Dri-Fit performance, made from recycled polyester and inclusive of authenticity tabs and logos.

Whether you are looking for kids or adult sizes we stock a full range of merchandise including Portugal home kit. With shirts, shorts and socks to fit from children age 3 up to adults XX-Large, as well as training kit and accessories you are sure to find merchandise for any fans of the Portuguese national team here.

With heightened interest following Euro 2016, and a never-ending schedule of friendlies, World Cup and European Championship qualifiers and tournaments now is the ideal time to pick up the latest Portugal soccer jerseys. Order yours using our online shopping cart for easy, secure, hassle free shopping, and remember we offer worldwide shipping options for your convenience.