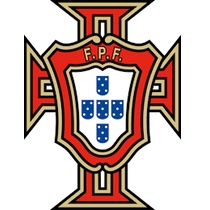 Portugal Accessories and Merchandise
In recent years, with Cristiano Ronaldo in the squad, the profile and popularity of the Portuguese national football team has skyrocketed. Demand for team merchandise and Portugal football accessories has increased, and here at Soccer Box we have a range of official souvenirs and accessories, which are perfect for any passionate supporter of Portugal. Stock is limited and demand is high, so ensure to place your order soon. 
Nike is the kit supplier for Portugal, and in addition to the match day kit and training wear they also design and produce a selection of team accessories. We are supplied directly by Nike and you can shop for merchandise including a gym bag, soccer ball and baseball cap. These official Nike accessories are designed to coordinate with the current home and away kits, and feature the iconic red Portugal colour, with hints of green and yellow.

The infamous Portugal crest also features on the majority of Portugal souvenirs, and the Nike merchandise features the company's Swoosh logo. Nike refresh the collection with each new kit launch to include up-to-date design features. We also stock non-Nike products, this is also official team merchandise, and manufactured under license to the highest standards, and in accordance with European safety regulations.
Football Accessories for Fans of Portugal
There are certain must-have accessories for any football fan, one of those is the iconic football supporter's scarf, and we stock the perfect Portugal scarf. A scarf or indeed a flag can be used year round either wrapped around your neck/body or waved while cheering on the team. They can of course also be displayed in your car, office or home in support for the Portuguese squad.

For kids and adults using Portugal football accessories is the perfect way to identify yourself as a fan both on match days and throughout the year. A gym bag makes a perfect PE kit bag for school age children, or can be used for football or sports kit by football fans of any age. Of course a Portugal soccer ball can be used by any aspiring footballers, so order one today and practice your skills, soon you may equal the talent of Portugal's infamous Cristiano Ronaldo.

If you are shopping for the ideal gift for the hard to please football fan why not consider team souvenirs? They are reasonably priced, offer great variety and also make the perfect stocking filler. Or take a look at our Portugal football shirt range if you want to get kitted out yourself!

Take a look at the Portugal football accessories available here at Soccer Box. Remember we also stock the official shirts and kit, use the menus to the left to navigate our store. We aim to keep our prices low, and we offer worldwide delivery options making ordering from us a hassle free experience.