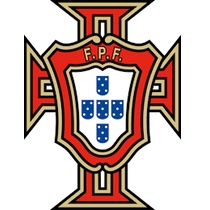 Portugal Training Kit
Every footballer spends a huge majority of their time training, and every team has a specially produced kit especially for this purpose. If you are a fan of the Portuguese national team why not up your game and invest in some of the official Portugal training kit? Here at Soccer Box we stock the official training jersey, casual polo shirt, as well as the Portugal jacket and sideline tracksuit. Take a look and pick up your training kit while 

Cristiano Ronaldo and the rest of the Portugal squad don't play 90 minutes of football in isolation, they train intensively most days. They maintain their fitness and skills with club training sessions, and come together as a national team prior to International friendlies, qualifier and tournament matches to ensure squad cohesion.

In 2016 the Portuguese national team moved into their brand new training centre, known as 'Football City'. This purpose built facility is home to every level of national football in Portugal - 22 teams in total. The centre has three football fields, a specially designed pitch for goalkeeper training, fitness suites, dressing rooms, offices and recreational facilities including a restaurant. This centre will be the epicenter of football in Portugal, and where all the preparation happens for upcoming World Cup and European Championship tournaments.
Portugal Training Gear Designed for the Professional
Nike is the technical supplier to the Portugal football association, and they design and produce all match day, training kit and accessories. The squad train in specially designed jerseys that feature performance technology to wick away sweat for exceptional comfort even during the most intensive training sessions.

In addition to training tops designed in a variety of colour-ways there is also a polo shirt that the team wear for travelling. The N98 jacket is a signature Nike product, and a must for any fan of Portugal, along with the sideline tracksuit that the squad will wear for team presentation and waiting on the bench.

Portugal football training kit makes a great addition to any football fans wardrobe. Whether you are looking to add to your football or sports kit with technically designed team merchandise, or simply some casual clothing that highlights your allegiance to Portugal the training kit collection offers a fantastic choice.

We are supplied directly from the Nike European distribution centres and all merchandise available in our online store is official team kit, manufactured to the highest standards, and including Dri-Fit performance. In addition to the training wear range we also stock the home and away jerseys, shorts and socks, we have kits for every occasion!

Shopping with Soccer Box is easy. Choose your Portugal training kit or even Portugal football accessories and add it to your shopping cart. Checkout online using our secure payment processor or PayPal, and wait for delivery. We offer fast worldwide shipping options, so wherever you are you can get the latest kits and cheer on the Euro 2016 Champions.